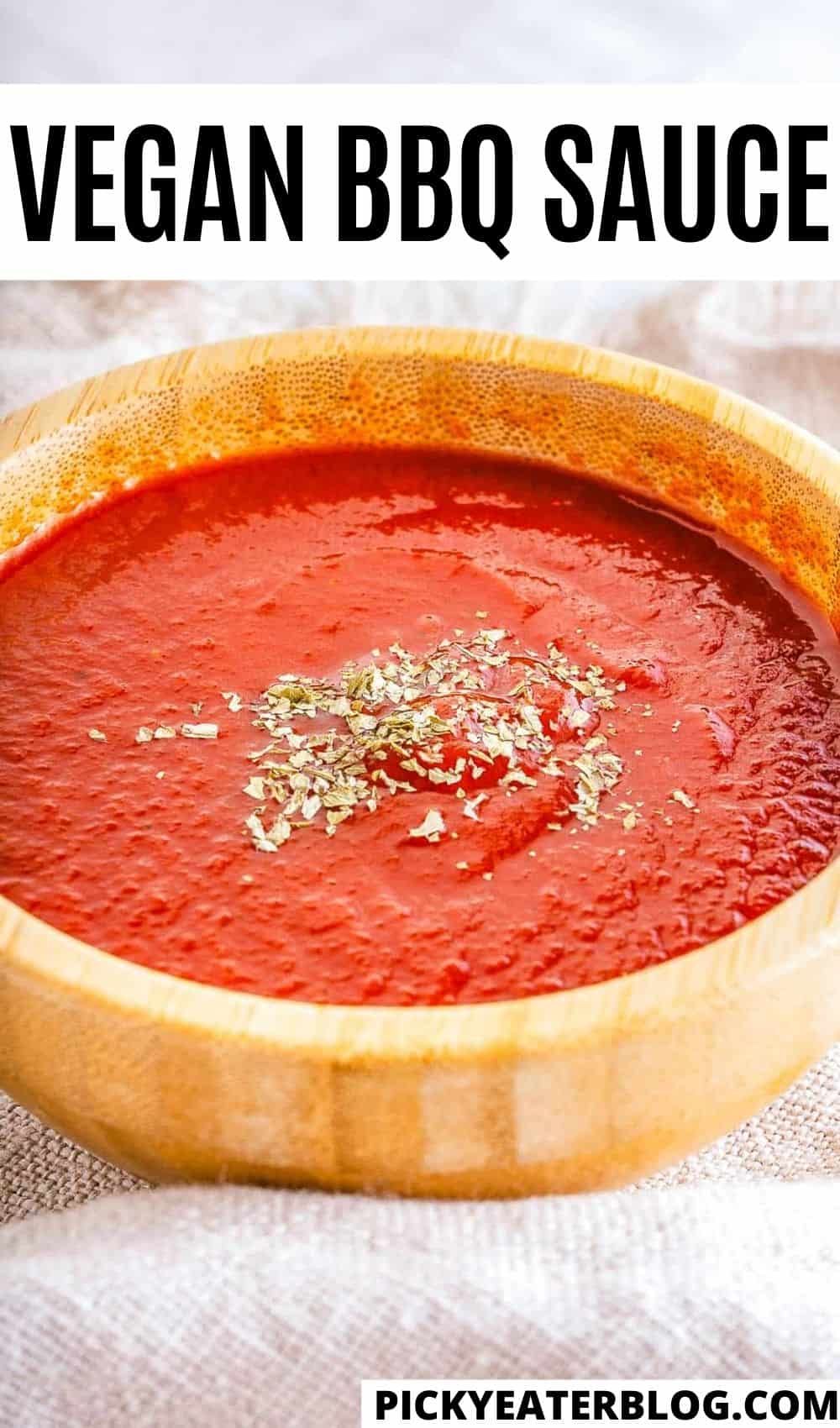 This post may contain affiliate links. As an Amazon Associate, I earn from qualifying purchases. Please read my disclosure.
Ditch store-bought barbecue sauce! Homemade vegan BBQ sauce is quick, easy, and so much better! Sweet and tangy, with a smoky finish, it's the perfect addition to your summer cookout! Vegan with a gluten-free option.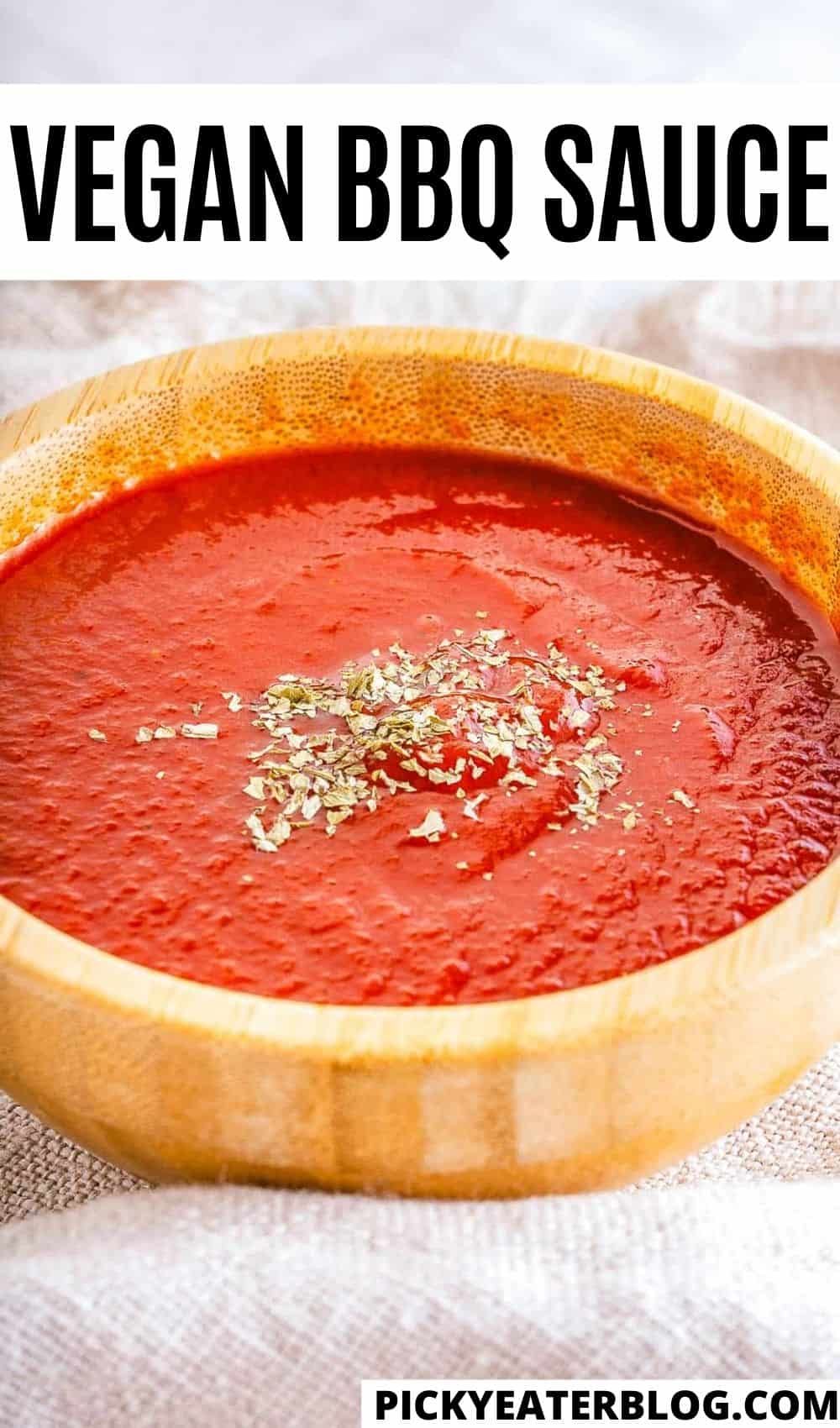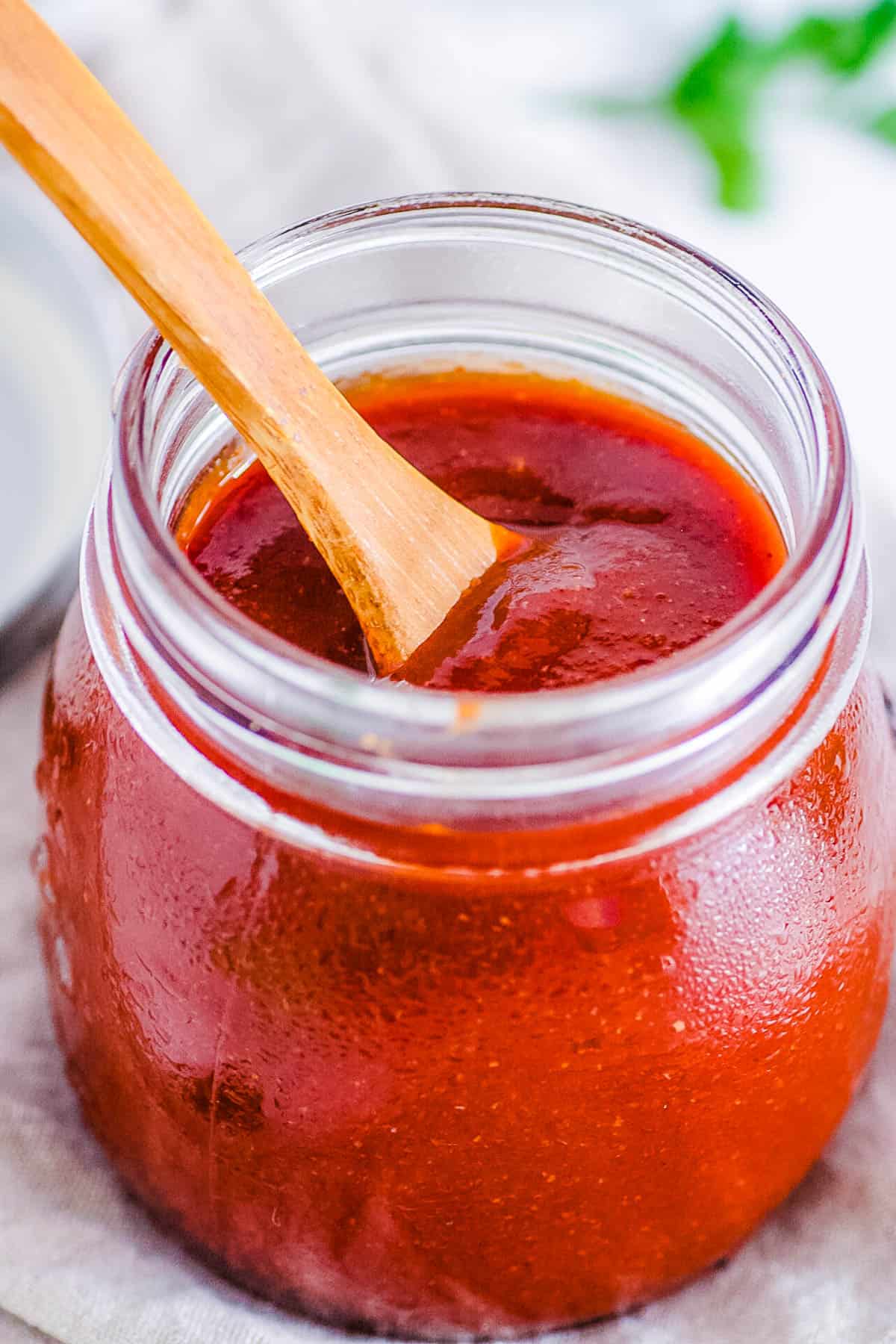 Once you make your own, you won't ever go back to store-bought barbecue sauce! Homemade vegan barbecue sauce is healthier, cheaper, and tastier than its bottled counterpart.
Just because you follow a vegan diet doesn't mean you can't enjoy summer grilling or BBQ season! There are so many ways to enjoy meat-free recipes that still have that char-grilled flavor and the sweet and tangy taste of barbecue.
Latest Recipe Video!
Slather this plant based BBQ sauce on veggie burgers, carrot dogs, barbecue tofu, pulled jackfruit, and grilled vegetables for a sweet and smoky flavor!
This recipe is super simple – you can make your own sauce with just a handful of ingredients. The best part – it's easy to customize based on how sweet or spicy you like your condiments!
Make this grilling season even better with this simple topping that brings a big WOW to any recipe you choose!
👩‍🍳 Why You'll Love This Recipe
Best vegan BBQ sauce recipe!
No animal products or funny ingredients
Easy to customize!
Easy recipe & budget-friendly
Made with basic ingredients
Versatile condiment to use with all your favorite vegan foods!
No high fructose corn syrup like store bought brands
Made with whole foods & no preservatives
🥘 Ingredients
This healthy BBQ sauce requires simple ingredients, easily found at your local grocery store! Find the ingredient list and nutrition facts at the bottom of this post.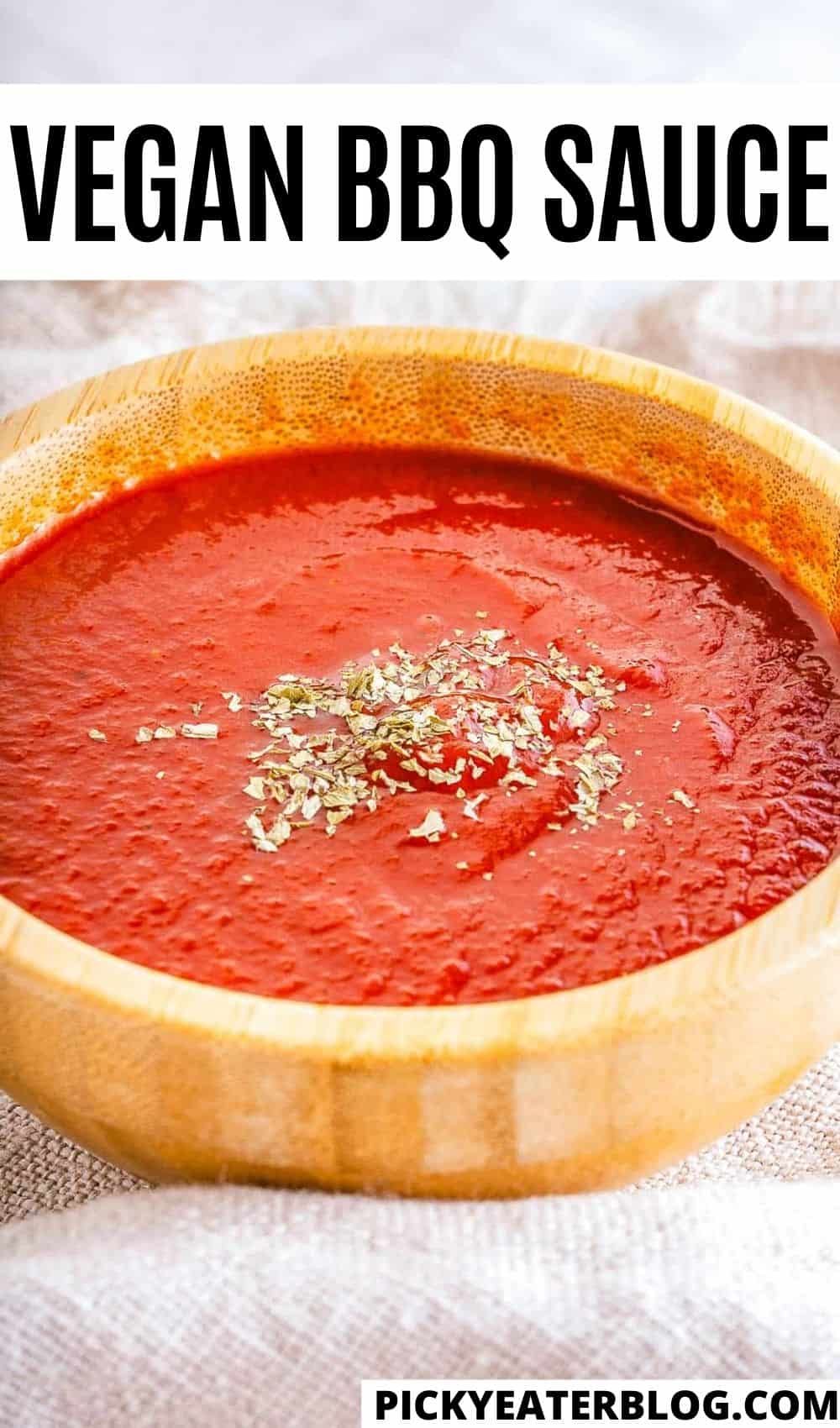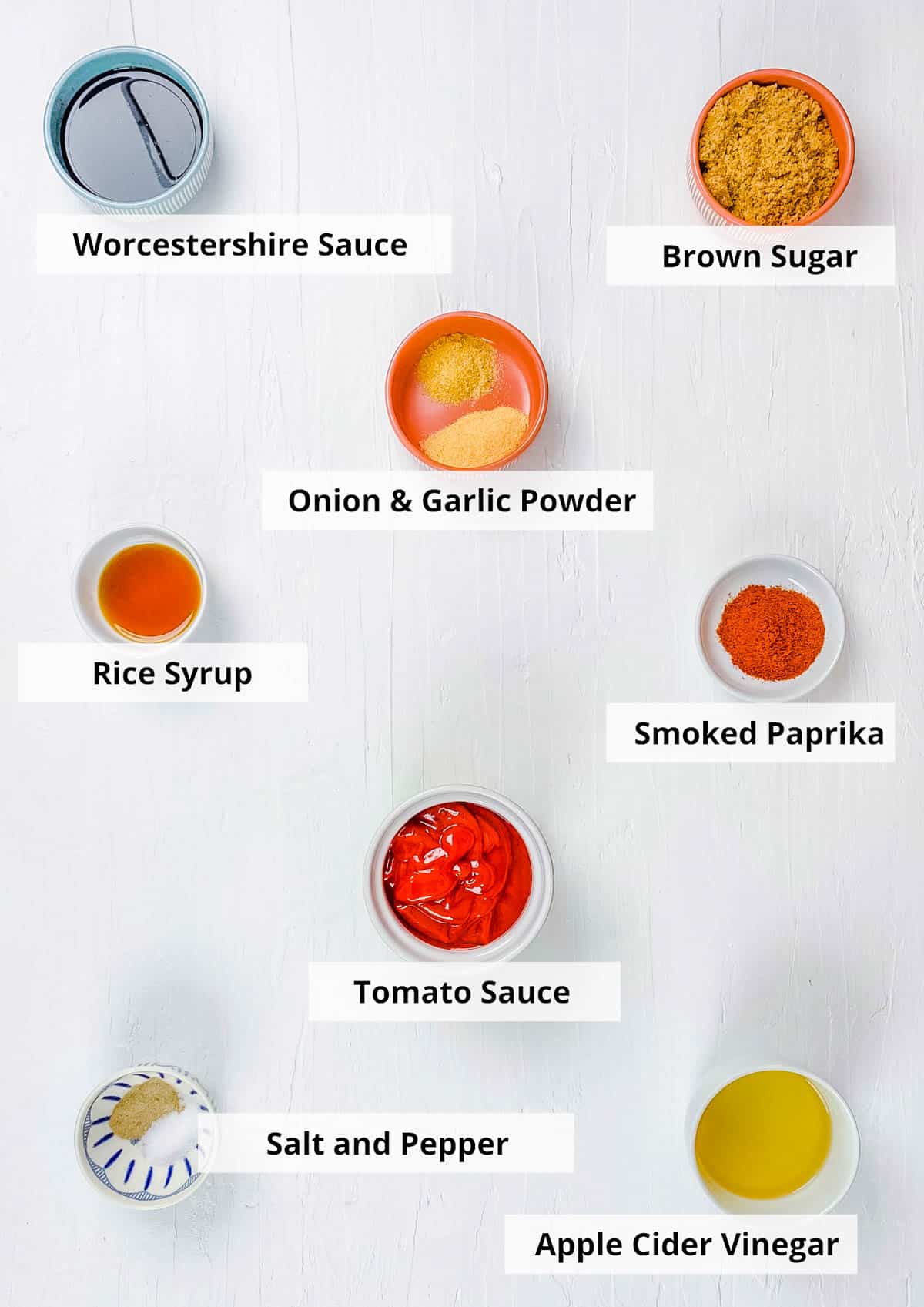 Tomato Sauce: Any red barbecue sauce worth its salt starts with a tomato base. Many call for ketchup, but I like to control the sweetness! For a thicker consistency, add a few tablespoons of tomato puree or tomato paste.
Apple Cider Vinegar: Adds some tang for a well balanced condiment. If you don't have apple cider vinegar, you can use white vinegar in its place.
Rice Syrup: Helps to thicken, and adds a touch of sweetness. You can also try maple syrup or honey if you can't find rice syrup.
Brown Sugar: This homemade BBQ sauce has less added sugar than typical recipes. Feel free to swap coconut sugar, cane sugar, organic sugar, or maple syrup for the brown sugar. Adjust the amount based on your preference – add less for more tang, add more to make it sweeter.
Vegan Worcestershire Sauce: Vegan recipes call for vegan Worcestershire! (Regular Worcestershire contains anchovies.) Always check the ingredient label. If you can't find it, soy sauce or coconut aminos is a good substitute.
Spices: A combination of smoked paprika, garlic powder, onion powder, sea salt and freshly ground black pepper round out the flavors of this easy vegan BBQ sauce. If you like spicy BBQ sauce, try a dash of cayenne pepper, chili powder, hot sauce, or crushed red pepper flakes.
Salt: Don't forget this common ingredient. Salt equals flavor!
📖 Variations
This recipe is easy to customize! Here are a few quick and simple variations.
Gluten-Free: To make this homemade recipe gluten-free, use Tamari (gluten-free soy sauce) instead of vegan Worcestershire.
Make It Spicy: Add siracha, hot sauce, chili flakes, chipotle peppers, or cayenne pepper to give it some kick!
Heinz Barbecue Sauce (Vegan): Replace the tomato sauce with Heinz ketchup. Heinz ketchup is considered vegan-friendly! They don't use sugar that's been refined from the bone char of animal bones.
Sugar Free Barbecue Sauce: Replace the brown sugar and rice syrup with a 1:1 sugar replacement.
🔪 Instructions
Heat Ingredients: Place all the vegan ingredients in a medium saucepan over medium heat. Stir or whisk until combined.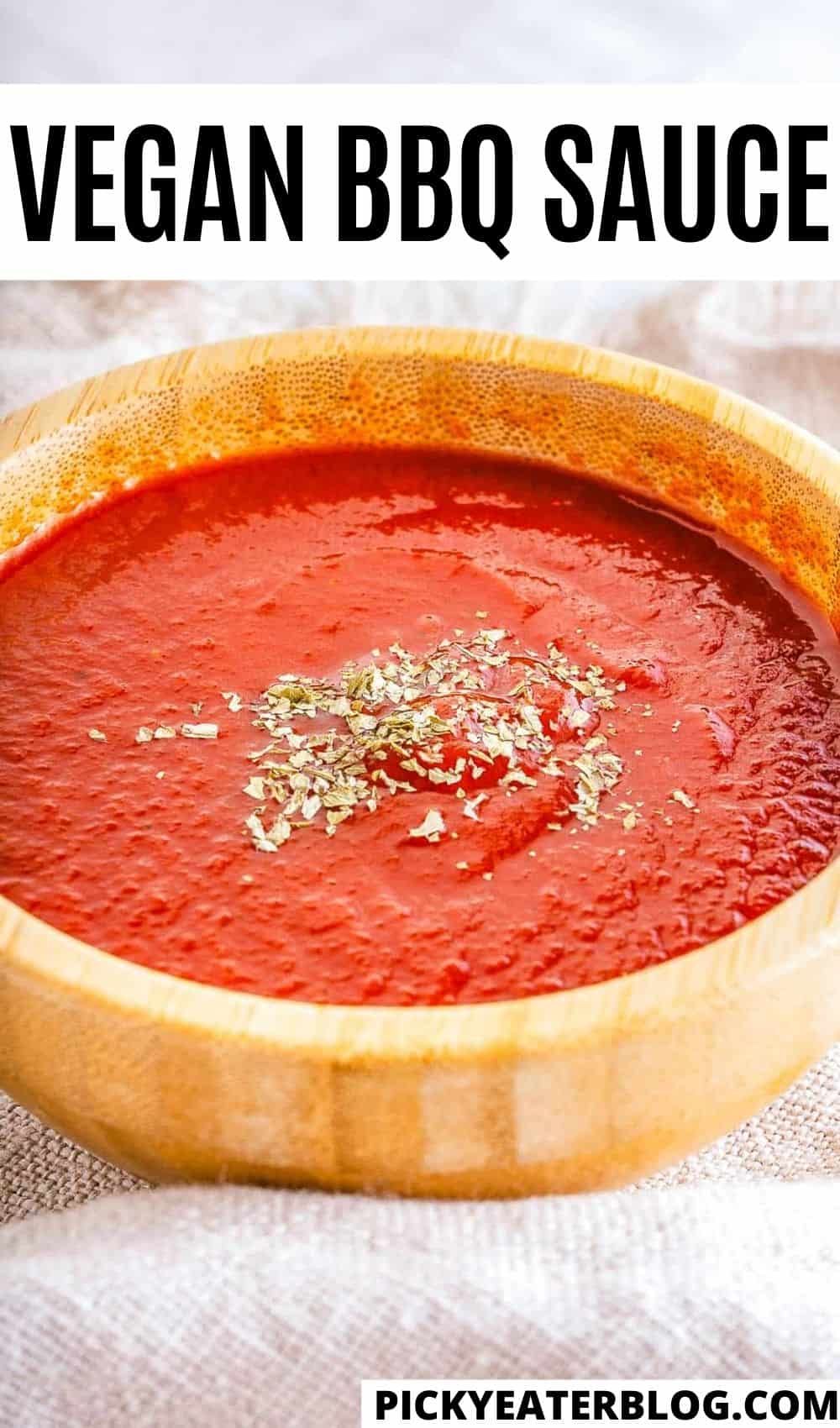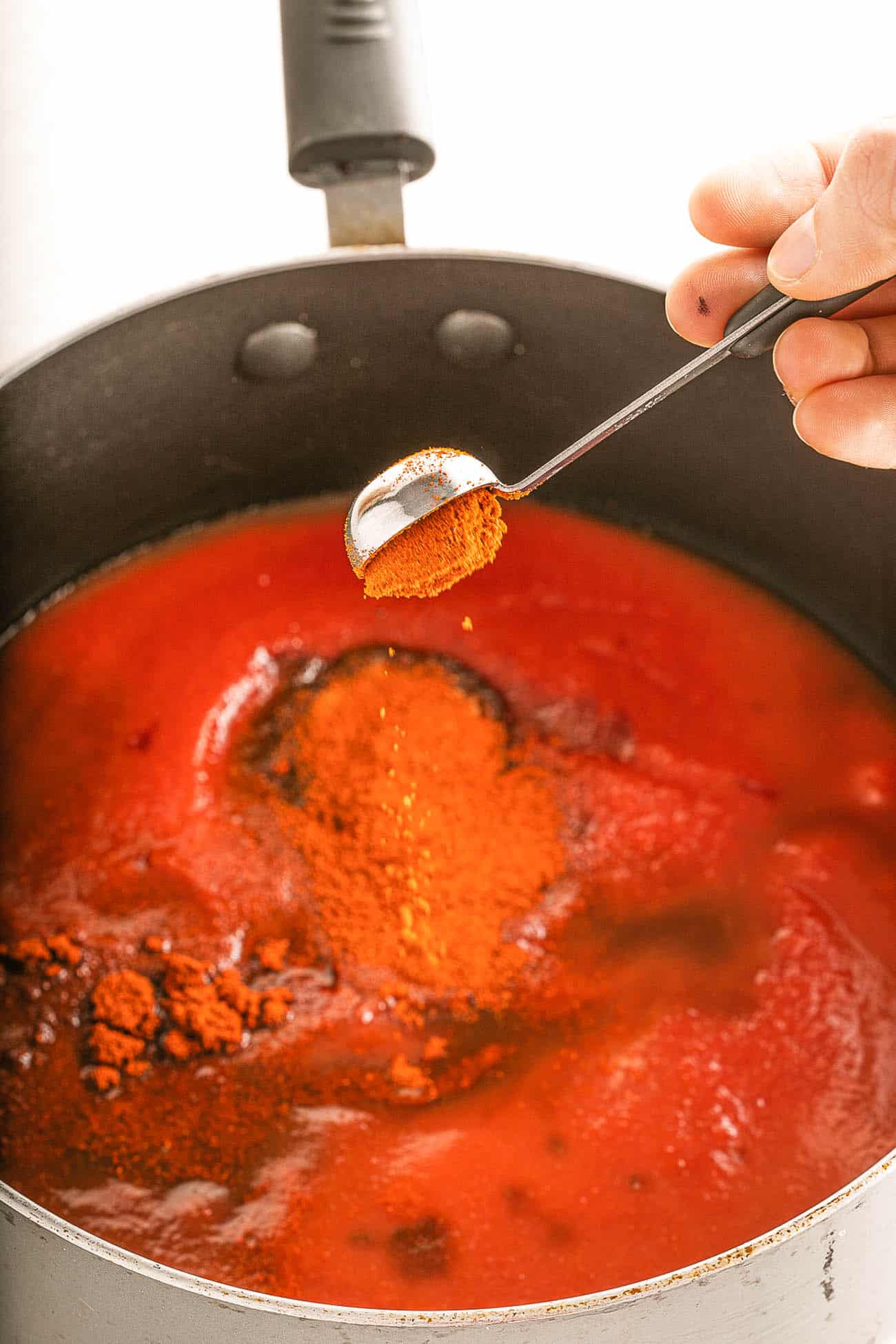 Slowly Simmer: Simmer, uncovered, for 15 to 20 minutes until it is thick. The longer you cook it, the thicker it will be. If it's bubbling too much, reduce to low heat.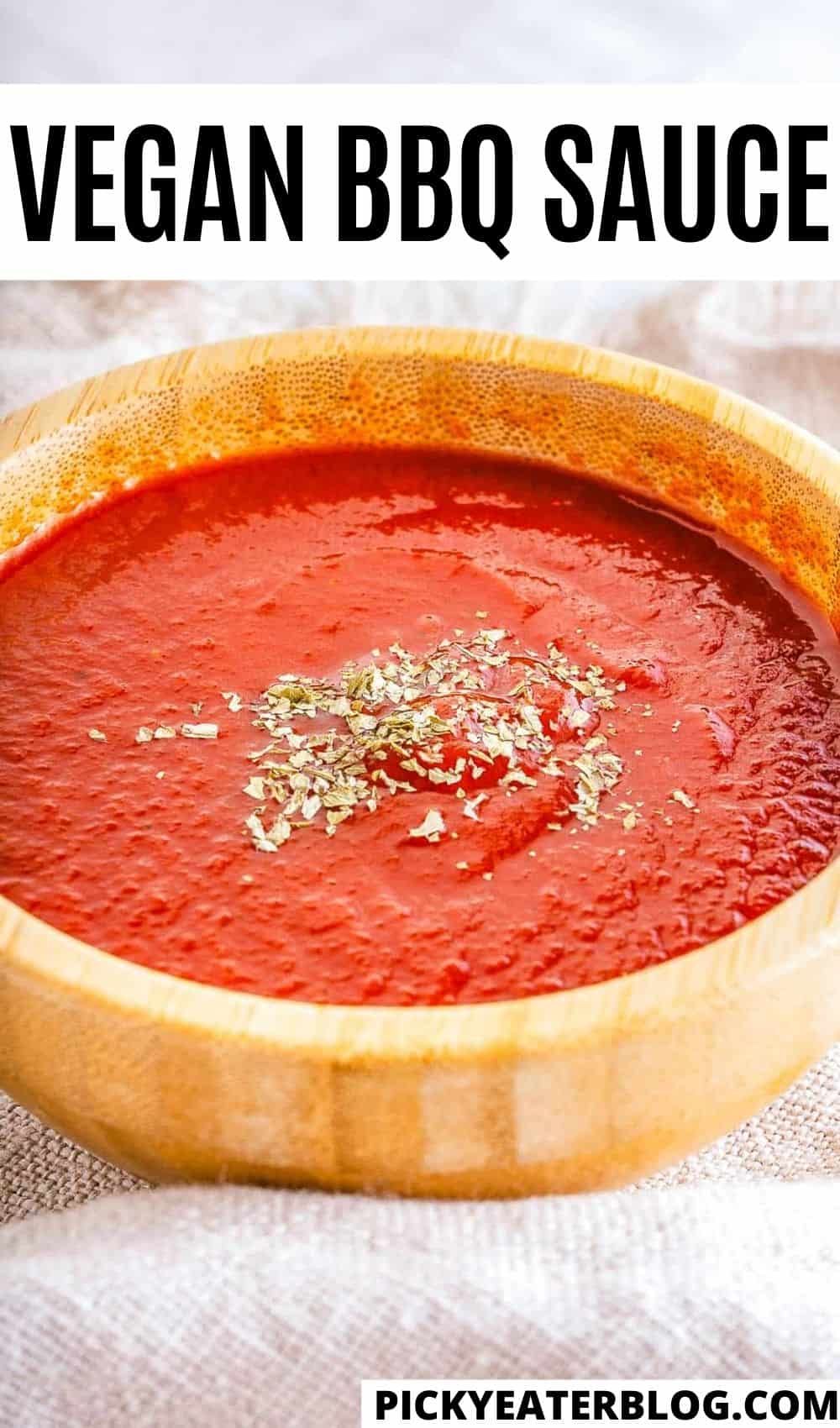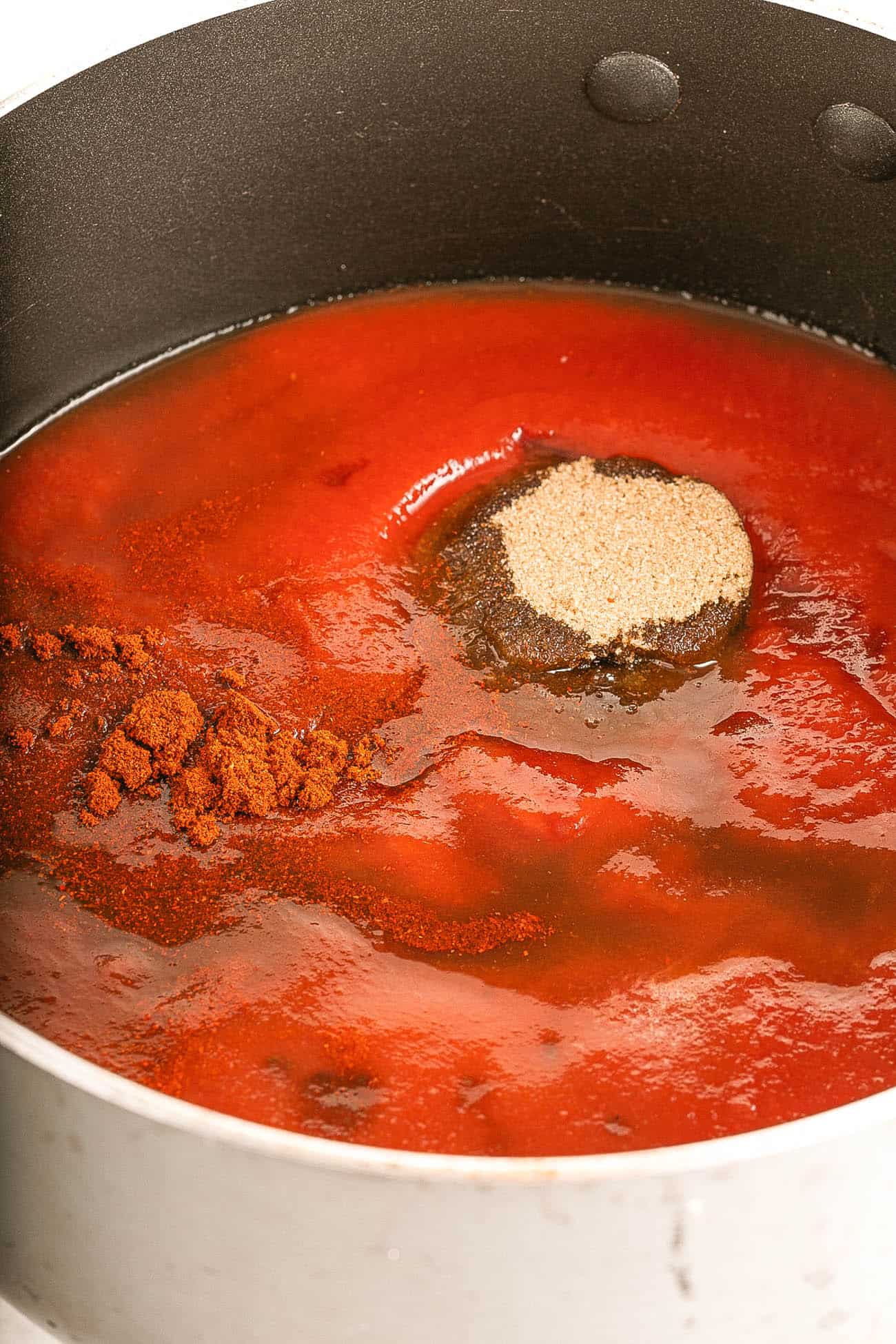 Store: Let the condiment come to room temperature then enjoy! Store your vegetarian BBQ sauce in an airtight container or mason jar in the fridge for up to one week.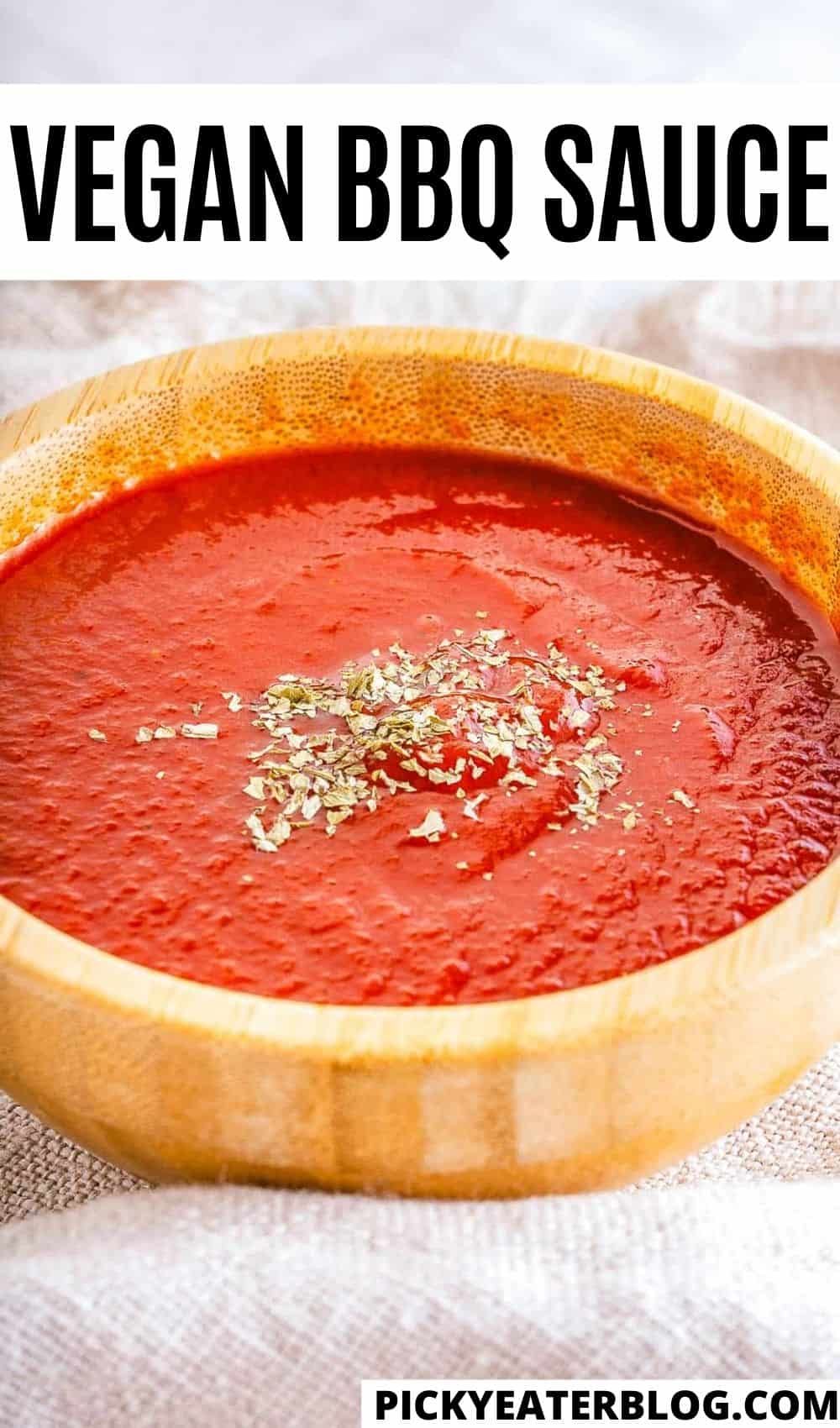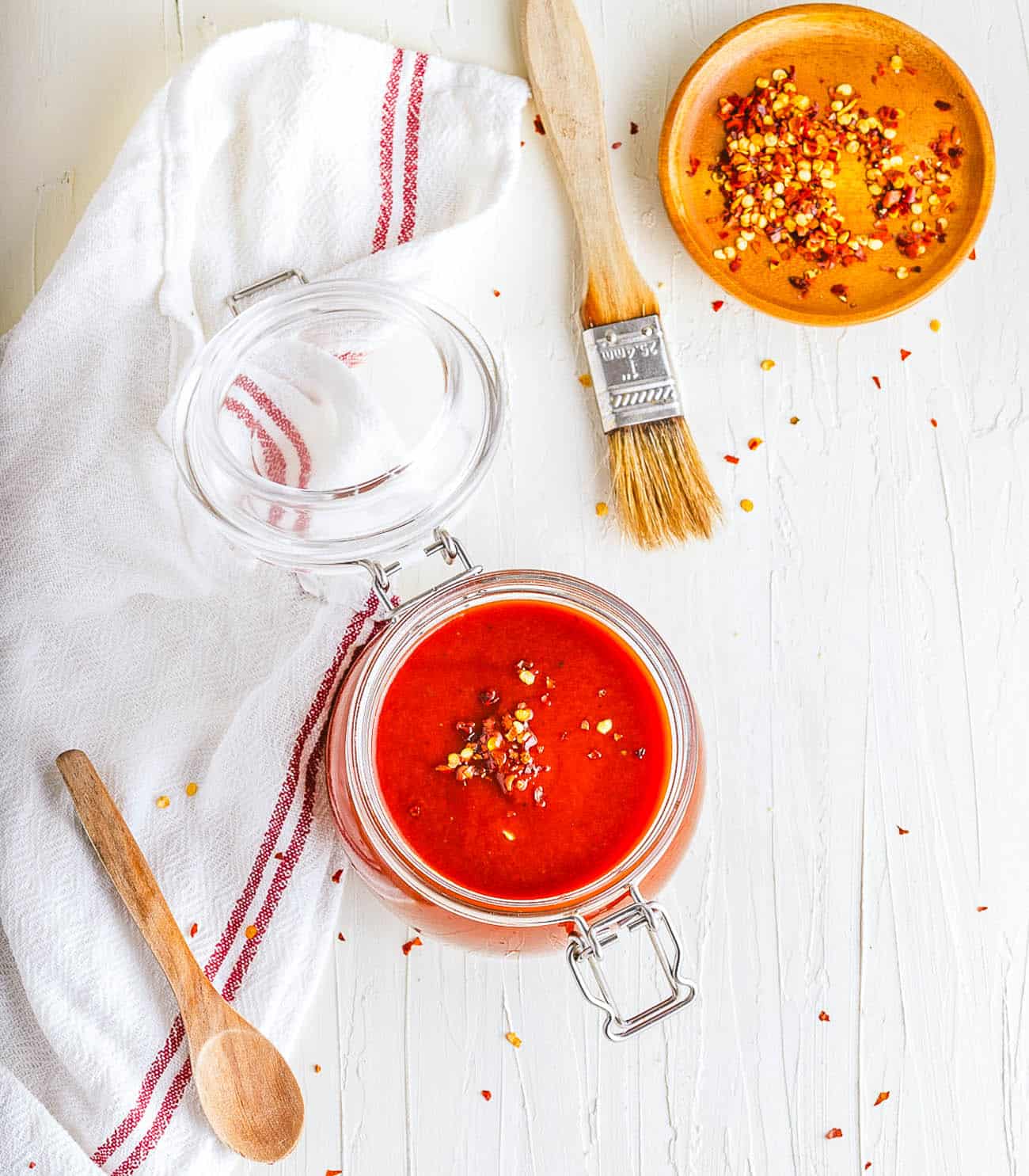 ❓ Recipe FAQs
What is the best vegan friendly barbecue sauce?
The best type really depends on your flavor preference. There are a few vegan-specified barbecue sauce brands, but Sweet Baby Ray's sauce is a favorite! (it happens to be vegan and gluten-free). It's a good option if you don't have the time to make a homemade version.
Which BBQ sauces are vegan?
The most common animal product in popular brands of barbecue sauce is honey. If you're looking for a plant based barbecue sauce brand, check the label and ingredient list before purchasing.
The Heinz Brand sells many sauces that are vegan including their Carolina Mustard Style, Carolina Vinegar Style Sweet and Tangy, Original Sweet and Thick, Hawaii Style Sweet and Fruity, Kentucky Bourbon Style Rich and Savory.
Is barbecue sauce vegetarian?
It depends on the brand! Many barbecue sauce brands contain Worcestershire sauce which lists anchovies as one of the ingredients. Look for a brand that specifies it's vegetarian or doesn't contain Worcestershire sauce.
Is sweet baby ray's barbecue sauce vegan?
Yes, Baby Ray's BBQ sauce is vegan. It is also Keto, and gluten-free.
🍽️ Serving Suggestions
Make BBQ tofu! Marinade firm tofu in this sauce, and then grill. Serve with vegan potato salad.
Try it as a dipping sauce for Vegetable Skewers, Air Fryer Tofu or Vegan Chicken Nuggets.
Spread on top of your favorite Veggie Burgers.
Cook with a ground meat substitute then top baked potatoes with it.
Mix with pulled Jackfruit to make a vegan BBQ pulled pork sandwich.
💭 Expert Tips
Add liquid smoke for an extra smoky flavor. A little goes a long way!
To make it spicy, add a dash of cayenne pepper, chili powder, hot sauce, or crushed red pepper flakes.
Regular Worcestershire works too but it's not vegan!
The flavors develop as the barbecue sauce cools. Wait until it's cold to taste it and adjust the seasonings. Make it your own vegan BBQ sauce with more spices or sweetener.
For a healthier option, cut the amount of brown sugar and rice syrup in half. Then each serving will only have 3 grams of sugar and 19 calories!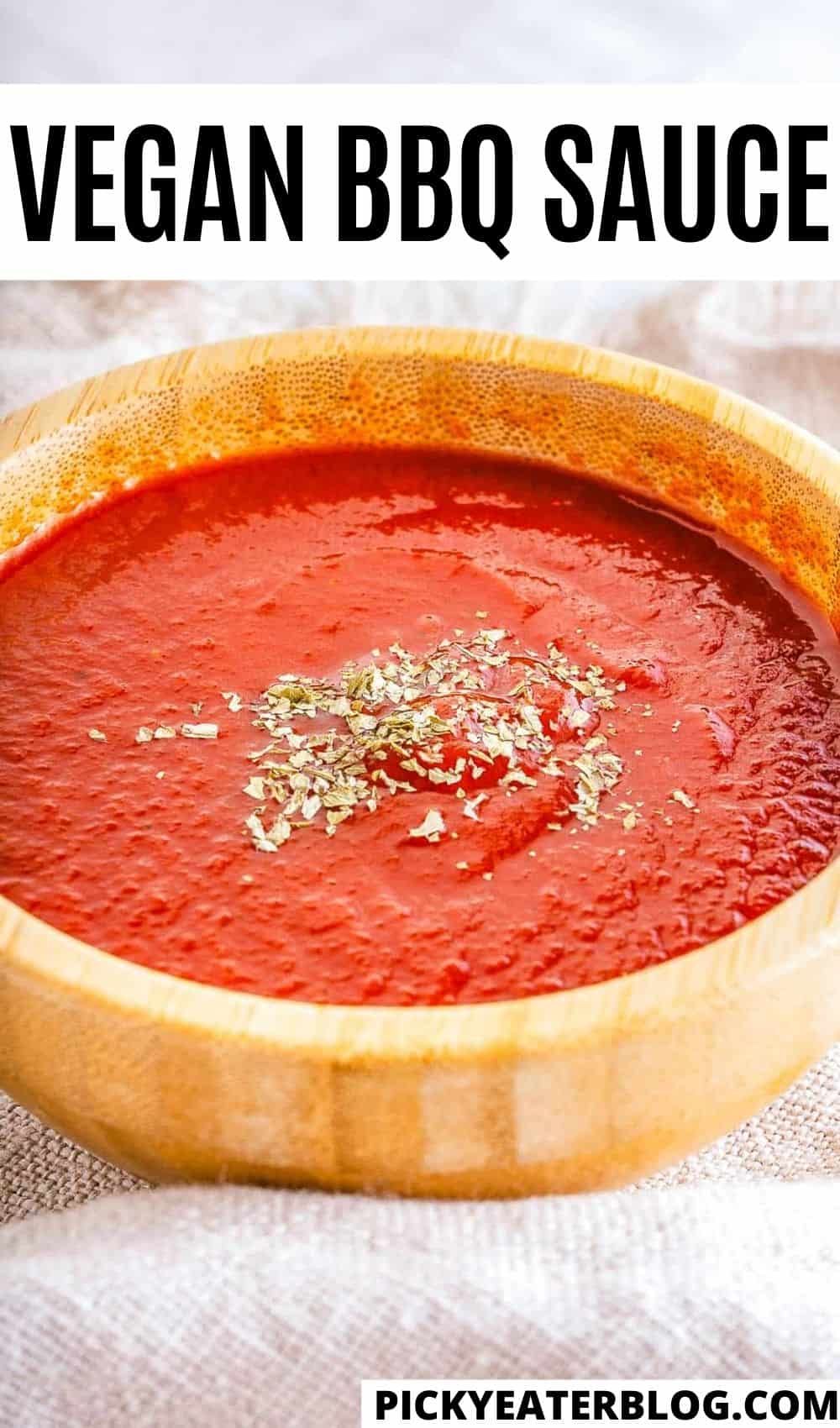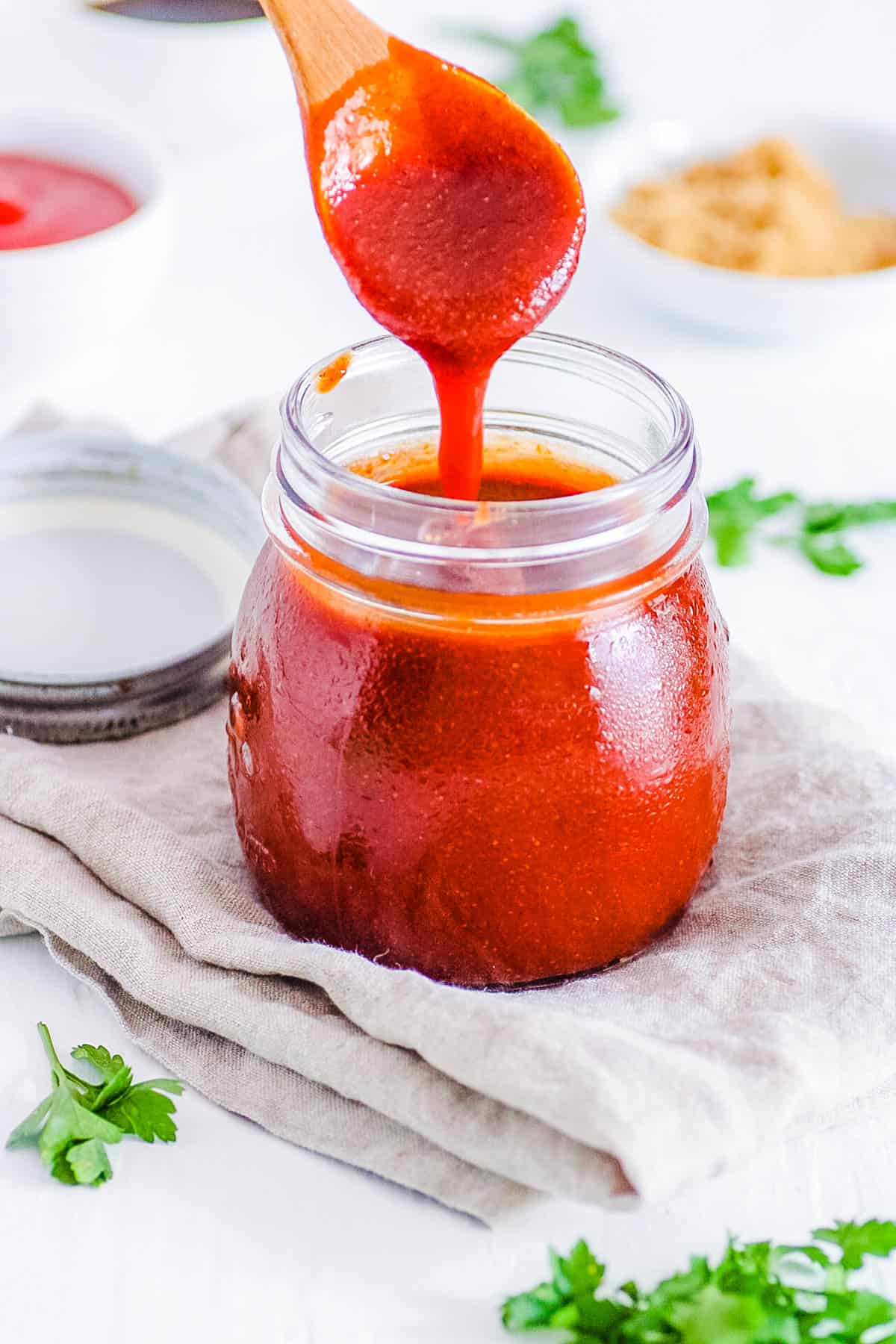 🍲 More Healthy Vegan Sauces!
If you love this homemade sauce, try one of these flavor-packed sauce recipes!
📋 Recipe Card
Vegan BBQ Sauce
Ditch store-bought barbecue sauce! Homemade vegan BBQ sauce is quick, easy, and so much better! Sweet and tangy, with a smoky finish, it's the perfect addition to your summer cookout! Vegan with a gluten-free option. 
Servings: 16 tablespoons
Calories: 29kcal
Expert Tips
Add some liquid smoke for an extra smoky flavor.
To make it hotter, add a dash of cayenne pepper, chili powder, hot sauce, or crushed red pepper flakes.
I chose to use vegan Worcestershire sauce in this recipe. The traditional one would work too but then it wouldn't be a vegan bbq sauce.
The flavors in this sauce will taste different when the sauce is hot vs. cold, so if you want to adjust any seasonings, wait until the sauce is cold to taste it.
Nutrition information is calculated using 1/4 cup brown sugar and 2 tbsp rice syrup. Tip: To reduce the sugar in this recipe, use 1/8 cup of brown sugar and 1 tbsp of rice syrup. Then each serving of this bbq sauce will have 19 calories and only 3 grams of sugar!
Serving: 1tbsp | Calories: 29kcal | Carbohydrates: 7g | Protein: 1g | Fat: 1g | Saturated Fat: 1g | Polyunsaturated Fat: 1g | Monounsaturated Fat: 1g | Sodium: 188mg | Potassium: 93mg | Fiber: 1g | Sugar: 6g
Source link