by Caitlin H,
Jan 24, 2022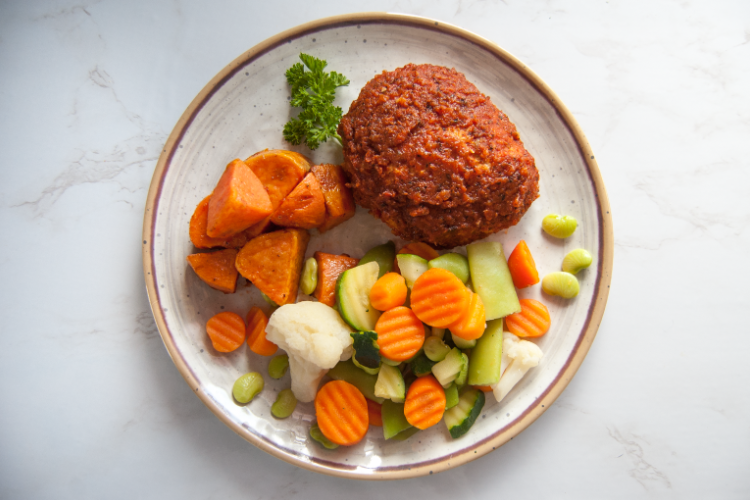 Name: Monica Pedone

Age: 68

Occupation: IT

Meal Plan: Balance-D

Favorite Meal: Santa Fe Chicken Burger

Start-date: September 2021

Starting weight: 260

Height: 5'11"

Pounds Lost: 50

Activity Level: Walking 1 mile per day

When I get a craving, my go-to trick is: I save the fruit portions of the meals and enjoy them as a snack later on in the day.
Early September brought with it a harrowing experience for 68-year-old Monica Pedone. Monica — an IT specialist karate black belt who regularly attended classes at her community dojo — started having difficulty breathing and ended up in an emergency room. Over the next five days (and a lot of scary conversations), doctors placed stents in Monica's heart and told her she had type 2 diabetes and cardiovascular issues.
"It was really, really, really difficult," Monica said.
Monica, at 5 feet, 11 inches tall and weighing 260 pounds, knew she had to make some significant lifestyle changes to regain control of her health. The doctors provided dietary guidelines that would help Monica lower her blood pressure and blood sugar levels, as well as lose weight.
"My daughter is a busy med student with three kids who uses Diet-to-Go," Monica said. "She recommended it and helped me get started."
Fresh out of the hospital, Monica went to a hotel to stay after her two children insisted she get her apartment renovated to create a healthier, safer living space.
"Diet-to-Go's customer service was fantastic," Monica said. "I was changing locations to different hotels while waiting for the renovations to be completed, and they didn't miss a beat. Every delivery arrived on time."
Monica said the meals were a game-changer for her.
"I was able to just pop my meals in the hotel refrigerator and then into the microwave when it was time to eat," she said. "I found the meals had more than enough and helped me make sure I had a vegetable, a protein and the right amount of carbs."
When Monica returned home, she decided to sign up for classes at Columbia University, too.
"The meals are transportable; I just pop them into my backpack and go," she said. "Some of the meals taste great at room temperature, and they're much easier than if I was cooking at home and had to haul around tupperware. I just grab the meal and disposable [cutlery], and I'm ready to go."
In just nine weeks, Monica shed more than 50 pounds with Diet-to-Go. She realized the significance of that when she returned to her karate dojo months later to visit with her former classmates and friends.
"My friends there were like, 'Oh my gosh! You lost so much weight!'" Monica laughed.
Monica also said when students forgot their black belt, the dojo kept a spare for them to wear through the class.
"It never fit me before, but when I came back and tried it on, it fit me just perfectly," Monica said. "That made me feel so good."
Monica said she plans to continue using Diet-to-Go meals while also substituting in some of her own to reach her goal weight of 190 pounds.
"I am getting to a place where I am learning," she said. "This would have been so much more difficult to do on my own."
Monica added that the Diet-to-Go meals provide her with balance and an understanding of proper portion size.
"My endocrinologist is very impressed with my progress. My numbers are really good and low, and [my doctors] think I'll be able to manage my own insulin," she said. "Diet-to-Go is a no-brainer. Eat the meals, and you'll lose the weight."

 

 
————————————————————————————
Author: Caitlin H

Diet-to-Go Community Manager
Caitlin is the Diet-to-Go community manager and an avid runner. She is passionate about engaging with others online and maintaining a healthy, active lifestyle. She believes moderation is key, and people will have the most weight loss success if they engage in common-sense healthy eating and fitness.