Sorry for my long absence from this blog. It's been a heck of a few weeks. My mother-in-law died somewhat unexpectedly in mid-February, and since then it's been a whirlwind of cleaning out her assisted living apartment, making arrangements, flying to Illinois for the burial, then having houseguests upon our return. Not all of that fell on me, of course, but it's been hard to find time to sit and write. The guests are still here and we'll be doing things with them for another week, but I've got a bit of time to myself today so wanted to pop in with a quick update.
For the week of the apartment clean out, I wore a set of Kiss Gel Fantasy fakes, a limited edition design from several Christmas/holiday seasons ago featuring navy matte nails and multicolored glitter accents.
My natural nails have been in pretty good shape considering it's winter, which I attribute to keeping them protected with fakes most of the time, so yes, I want to continue that.
I used the adhesive tabs to attach them, so in a few minutes, my nails were done (and I hadn't risked gluing my fingers together). I really liked the glitter accent; it was just the right amount of flashy for me right then.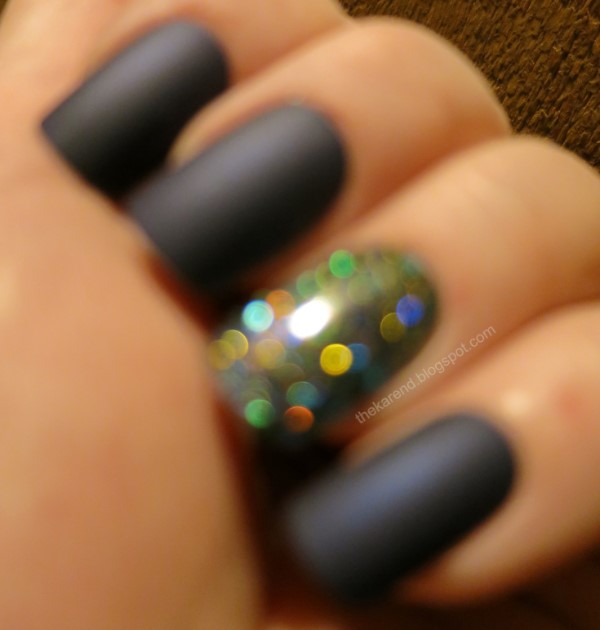 On the drive home from the apartment clearing/memorial arrangingg trip, nine days after I'd put the nails on, they were still looking pretty good. The matte nails were less matte, but no one who hadn't seen them fresh would notice that. I did have to reattach a few of them during the week, but on the whole they performed really well through all the sorting of stuff and packing and moving of boxes. I was pleased.
I kept them on another four days. The navy ones were pretty glow-y by then, but still the overall effect was looking good. Now I wish I'd bought all the boxes of these when they were around.
Given the houseguest situation, I'm not sure when I'll manage to post next. In a week or so, I'm hoping things will be calmer for me.