I feel like I haven't seen much new since my last
display post
, but I have seen some things, and it feels like it's time to share them lest they get stale sitting in my pending folder.
Christmas stuff has begun to show up in stores despite the supply chain issues. I saw these sets of Clutch Nails fakes at Target. I was tempted to buy both and mix and match them but restrained myself. Fakes that long are not a good match with ski gloves and I do hope to be skiing a lot near Christmas.
Target also had a couple Dashing Diva Gloss nail strips sets in Christmas designs slipped in between less seasonal ones.
I'd previously only seen OPI's green polish line, Nature Strongm at Ulta but it has now shown up at Fred Meyer.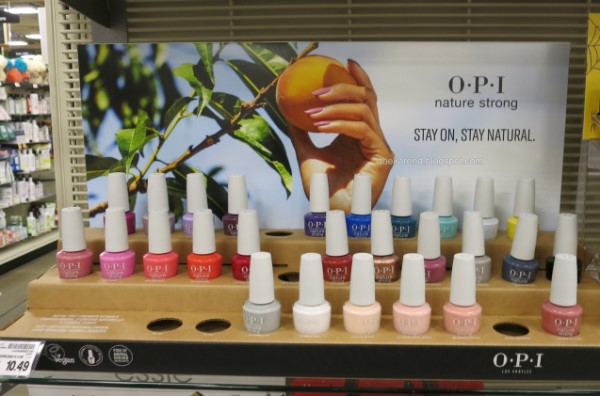 There was a shade card for Nature Strong, too.
Fred Meyer also had a full display of the OPI Downtown L.A., Ultimate Shine version. Top row: Isn't It Grand Avenue, Angles Flight to Starry Nights, OPI Hearts DTLA, Abstract After Dark, Violet Visionary, My Studio's on Spring. Bottom row: Metallic Composition, Graffiti Sweetie, (P)Ink on Canvas, Espresso Your Inner Self, 7th & Flower, Art Walk in Suzi's Shoes.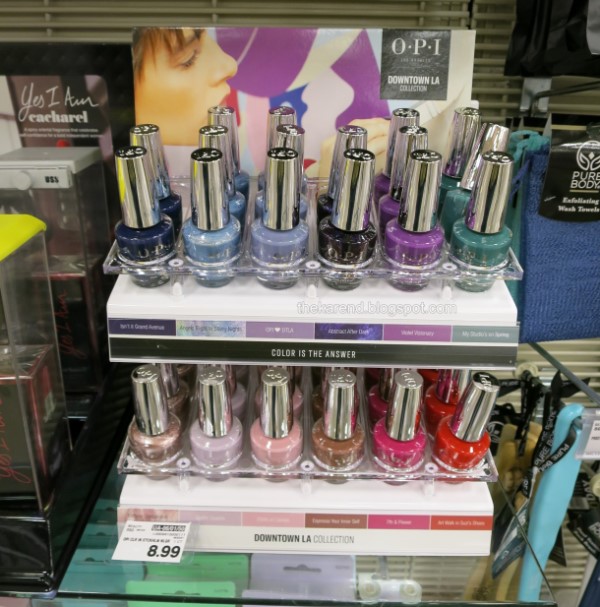 I know Halloween is long over, but I didn't see this Profusion UFO makeup display at Walgreens until after I did my Halloween display roundup, and I want to share it for future reference. It has a set of three nail polishes in it which caught my eye because they're the three small bottles that click/snap/stack together. That's a style I'd forgotten about until I saw these. I don't recall the brand that released them the first go 'round back in the day, and so far haven't come up with the right search terms to find them.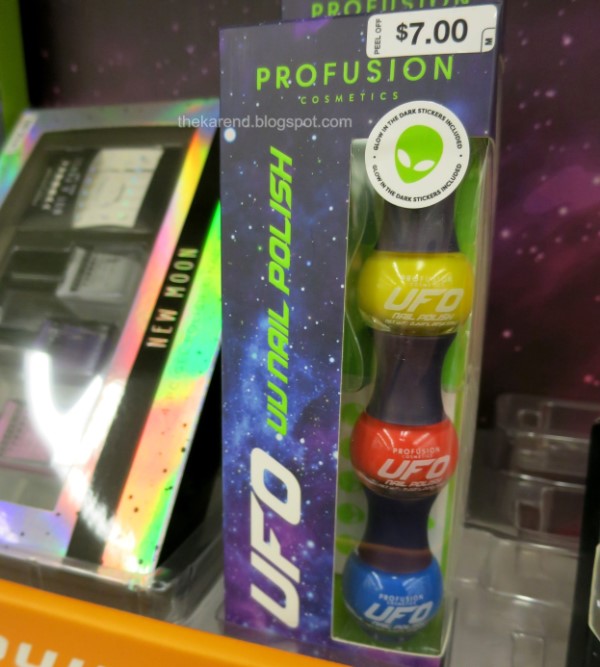 There was also a Profusion What's Your Sign makeup display that had a set of three more conventional nail polish bottles packaged with phase of the moon stickers. (Which I just noticed also appears in the UFO display since someone dropped it there.) Didn't seem especially Halloween-y to me but maybe they were working some astrology/witches angle.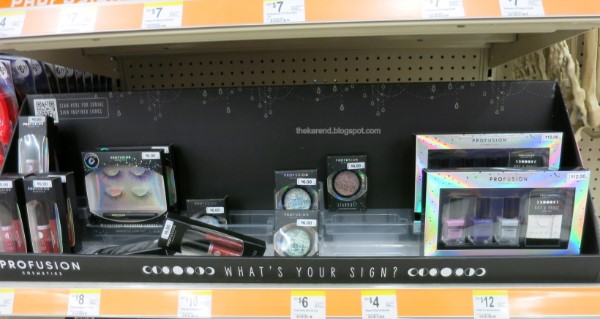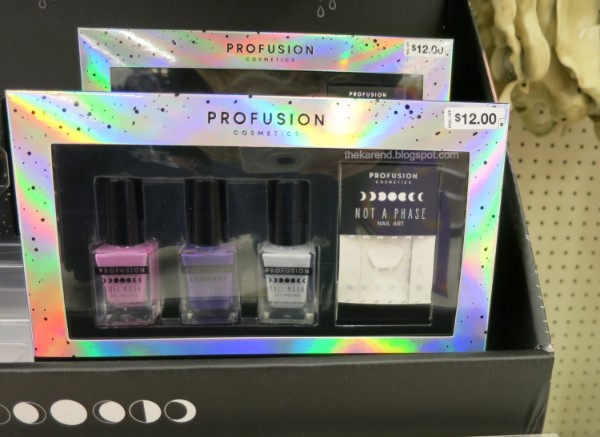 Good old Sally Hansen has a holday collection of Miracle Gel colors, called You're a Gem. These have gift bows printed on the caps. I saw them first at Target. Left to right: Snow What You Want, Gift for Blue, Living in the Presents, Wrapped in Love, Online Shop-bling, Red It Twice, Glitter to Santa, and Under the Tree.
Later I saw a You're a Gem shelftop display at Fred Meyer. This was odd because it touted "8 festive shades" but then hid three of them in the back of the display behind the five in front that had their names listed and colors shown. There were also a couple non-festive shades shoved in there.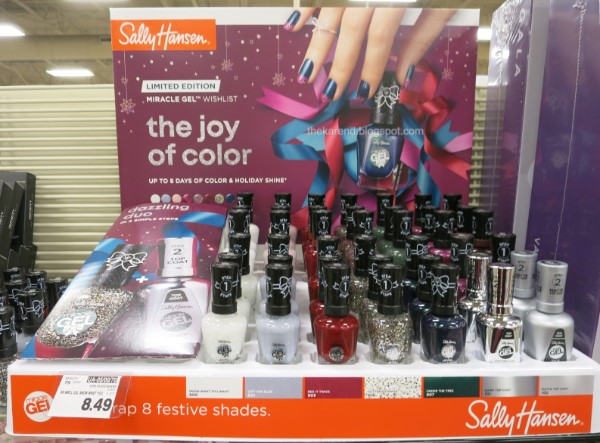 Another Halloween display that showed up late was the Salon Perfect one at Walmart. I swear it was not there when I saw the SinfulColors/LA Colors/Kiss behemoth in my previous display post. By the time I did see this one, almost all the polish was gone, but they'd helpfully labelled the display and provided pictures of what I missed.
Polish section with slots for Crystal Clear Top Coat, Traffic Cone (orange creme?), Too Cute To Spook (orange shimmer), Oil Slick (black creme), Dust to Dust (black and holo microglitter), Heart Strings (orange shimmer?), Hokiss Pokiss (red orange shimmer), Oil Slick, Traffic Cone, Crystal Clear Top Coat. Some of these names seemed familiar, so maybe re-promotes. I was tempted to grab that last bottle of Hokiss Pokiss due to the bats and stars printed on the cap, but for once I was able to talk myself out of it on the grounds of having plenty of shimmers like that already.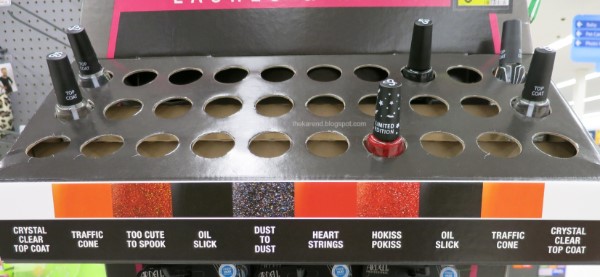 There were Salon Perfect FaBOOlous fake nail sets at the bottom of the display.
I don't remember if I'd seen the Salon Perfect Long Wear line before it showed up in this display at Walmart.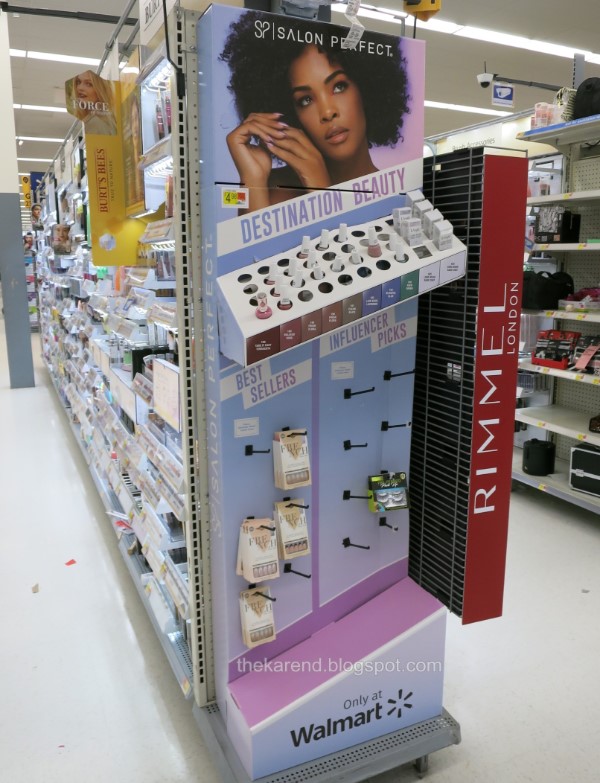 These Long Wear polishes have white caps instead of the black ones on the regular line. Slots were for: Take It Easy Terracotta (sold out), Relaxed Rose, Fresh Flora (times two), Clean Slate, Laid Back Lavender, Blissful Blue, Keen Green, Long Wear Base Coat (times two). I feel like there was some problem with assembly here since the bottles fell right through the holes so the colors weren't well displayed. I'm sure the employee who had to put this up isn't getting paid enough to deal with it.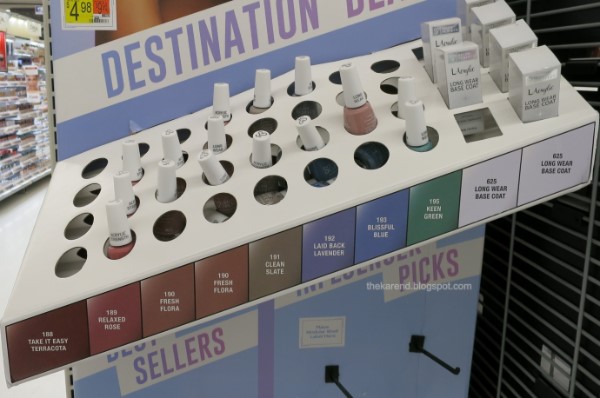 The fake nails in this display were all Modern French sets.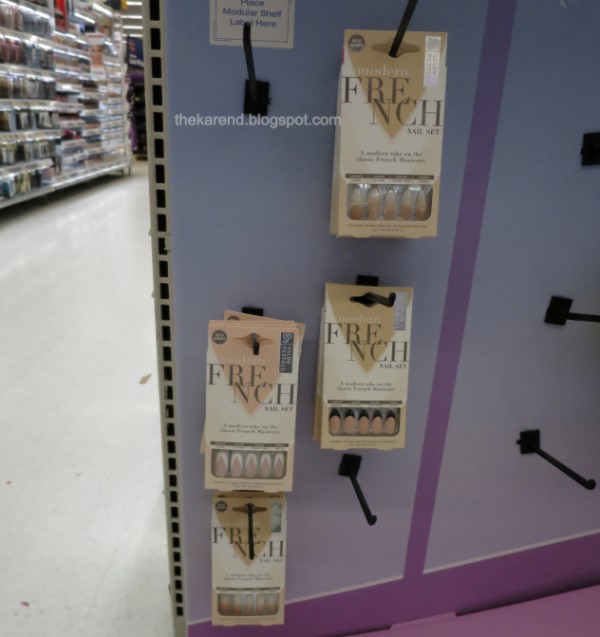 I had to go to several Target stores before I found the SinfulColors display with their new stuff. It was odd because there was no display card, just a red box with the polishes and some text describing them that didn't even include the brand name on the front face of the display (it did say SINFULCOLORS on the side of the display). I am not sure which of these are limited edition and which are new core colors. At $2.99 a piece, best to buy them all, I figured.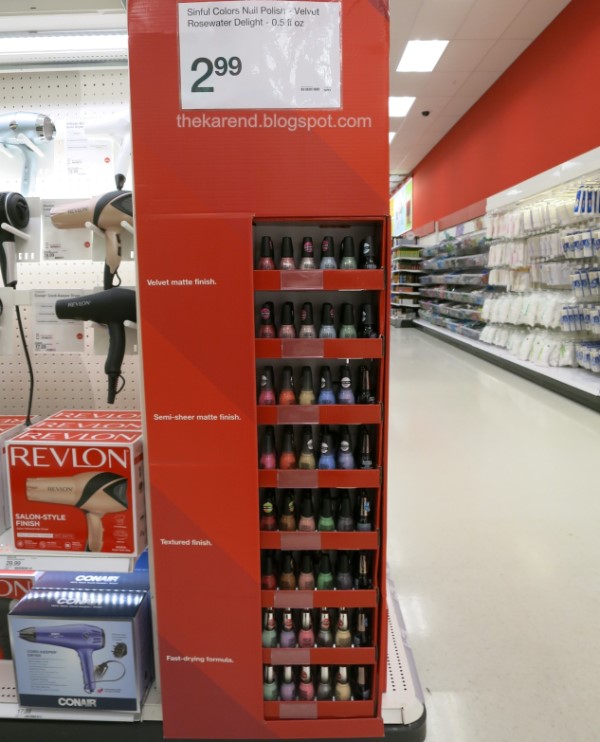 Top section is Velvet Matte shades: Strawbery Cheesecake, Raspberries 'n' Cream, Rosewater Delight, Blueberry Macaron, and Pistachio Praline. (All rows have top coat on the end.)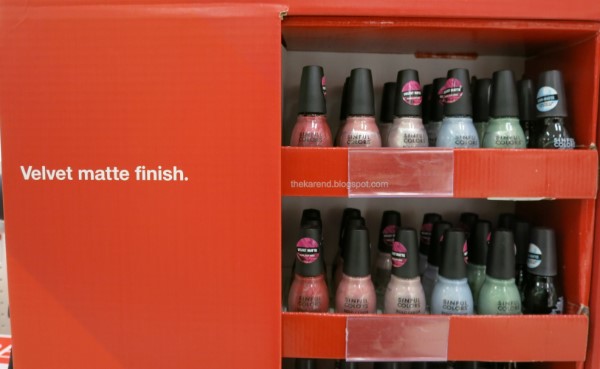 Next section are the Sheer Matte colors: Petals in Pink, Icing on the Cake, Frosted Sugar Cooked, Iced Petit Four, and Lavender Notes.
Section below that contains the Sweet & Sugary textured polishes: Sweet Cherry Drop, Orange Slice, Watermelon Obsessed, Sour Melon Crush, and It's So Grape.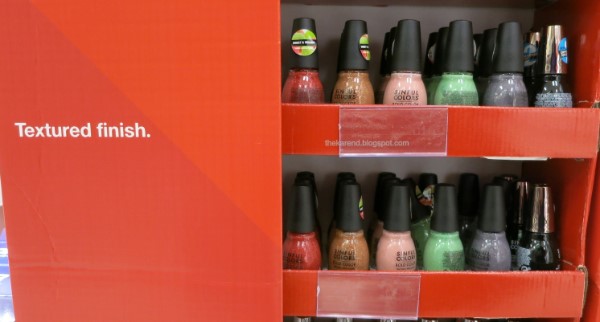 Finally in the last section there are Quick Bliss colors with Sassy Candy stickers on their caps: Green Apple Craze, Sugarplum Sucker, Candied Grapefruit, Royal Cake Pop, and Candy Coated Mint.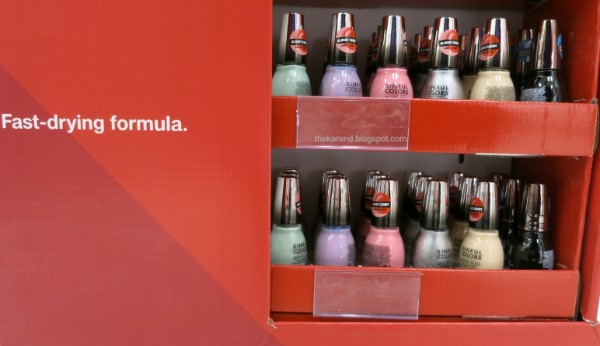 I admit I haven't made the effort to go into Ulta much since they closed the store in the same strip mall as one of my favorite shoe stores which I popped into quite a lot, so I probably missed some things there. Not that they've been as good a source for that as they were back in the day.