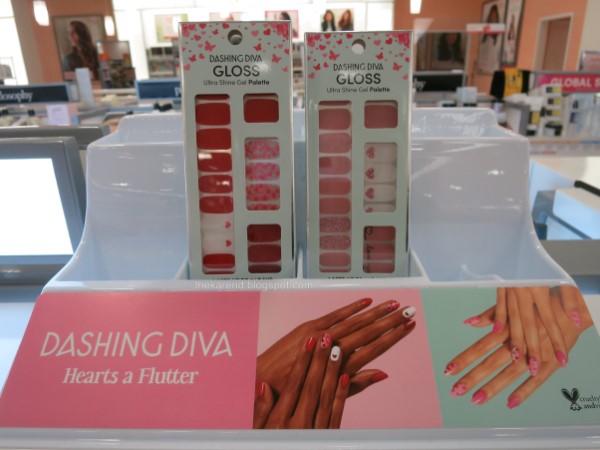 I didn't do special nails for Valentine's Day, so instead it's displays today, including some that have a Valentine's theme.Since the Omicron variant of COVID showed up, I've been cutting back on my outings again, but I have ventured out enough that I have seen some new displays since
last post
about them. Some I saw on that trip Mr. K and I took to western Washington to help his mom—when getting things she needed at Fred Meyer it was easy enough to slip a few aisles over and look at polihs—and some more recently on my one venture down into the city since we got back (wearing one of my upgraded masks, of course … no more cloth or surgical masks for me since I can't rely on my neighbors masking up at all).
I saw some Valentine's nail strips from Dashing Diva at Ulta in a "Hearts a Flutter" display. Only two designs were left by the time I saw it. I still haven't tried this brand; I bought some, just haven't gotten around to them.
Essie's limited edition Valentine's Day collection, Love Note-worthy, was at Fred Meyer. The caps are printed with silver holiday designs. Shades, left to right: Lips Are Sealed, Pretty in Ink, Under Locket & Key, Love-Note Worthy (why the hyphen is where it is here compared to the collection name, I do not know), Respond with a Kiss, Quill You Be Mine (sold out).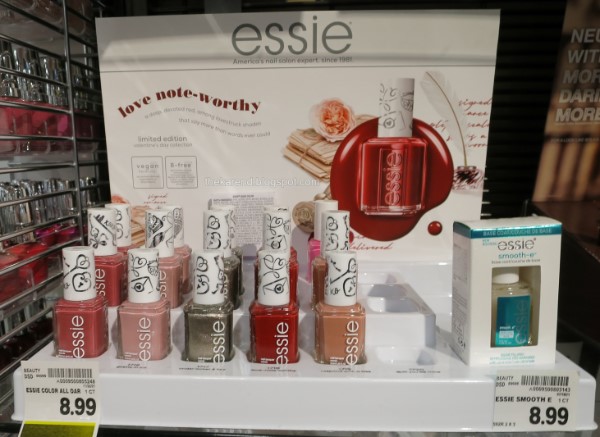 At a different Fred Meyer, the Essie Valentine's shades were in a non-collection specific sidekick, mixed in with other colors. Quill You Be Mine is the off white in the second row.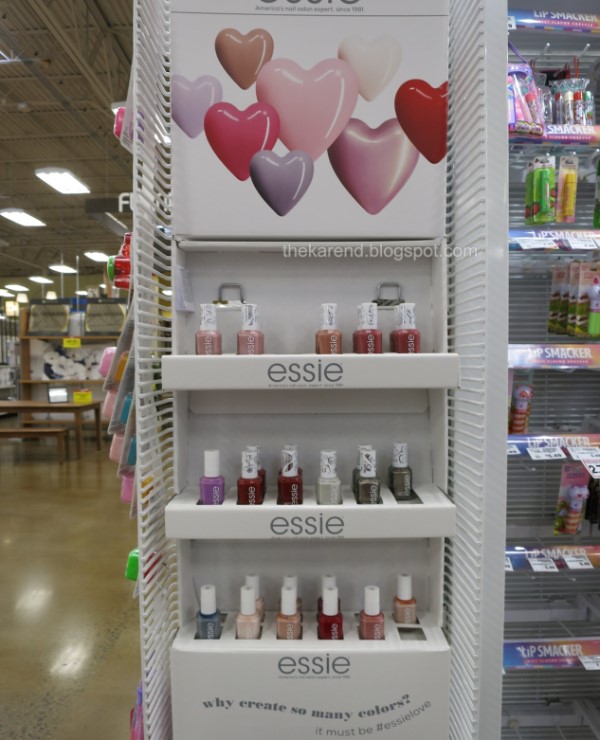 At Walgreens, the Essie Valentine's polishes were part of a Maybelline makeup display. All six shades were shown on the display but only three of them were there in the bottles: Love-Note Worthy, Respond With a Kiss, and Quill You Be Mine.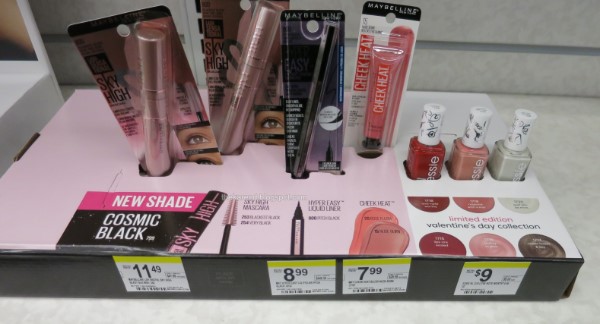 I guess Essie's Swoon in the Lagoon collection is for resort season, because it's bright but too early for it to be for summer? The best stocked display for this was the one I saw at Ulta. Front section: Swoon in the Lagoon, Day Drift Away, Boatloads of Love, Ripple Reflect, Natural Connection, Row with the Flow, Frilly Lillies. Back section: Willow in the Wind, All Oar Nothing. There's also a spot for Gel-Setter top coat here.
The Swoon in the Lagoon display at Fred Meyer looked like this: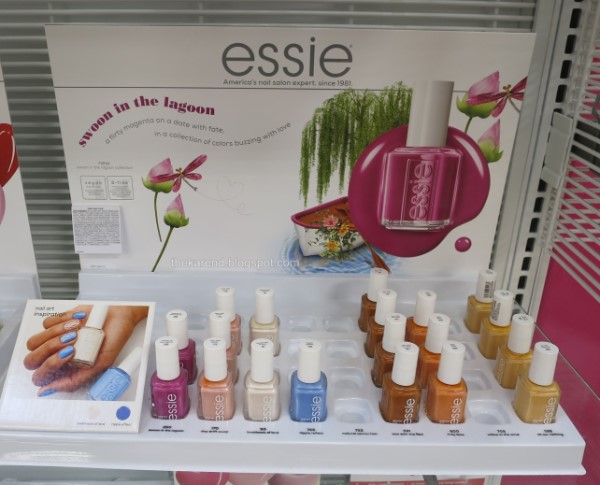 At Walgreens, Swoon in the Lagoon was in a similar display, but this one had spaces for two new treatments: Hard to Resist nail strengthener in Glow (pink) and Neutralize (lilac). Weirdly, one of the three Valentine's shades that wasn't with the other three was stuck in here.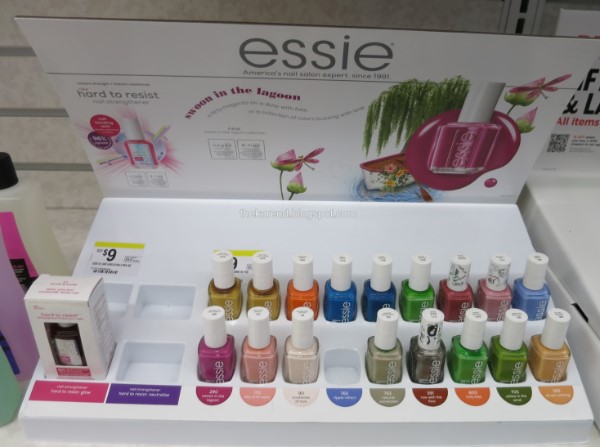 I saw Essie's spring collection, Flight of Fantasy, at Ulta. Left to right: Sing Songbird Along, Well Nested Energy (sold out), Flight of Fantasy, Spring Awakening, Stretch Your Wings, Keep Branching Out.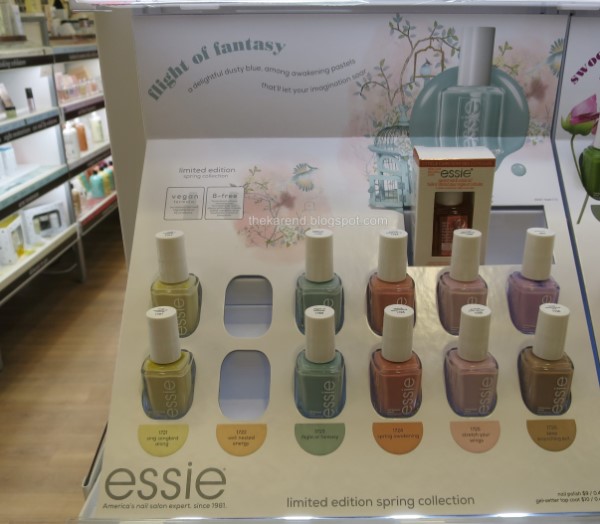 I happened upon a display of new shades in the Essie Gel Couture line. I had to go online to find out these are the Pattern Play collection. Left to right: Electric Geometric, Totally Plaid, Chevron Trend, All Checked Out, Fab Florals (this color does not say "floral" to me), Paisley is the Way.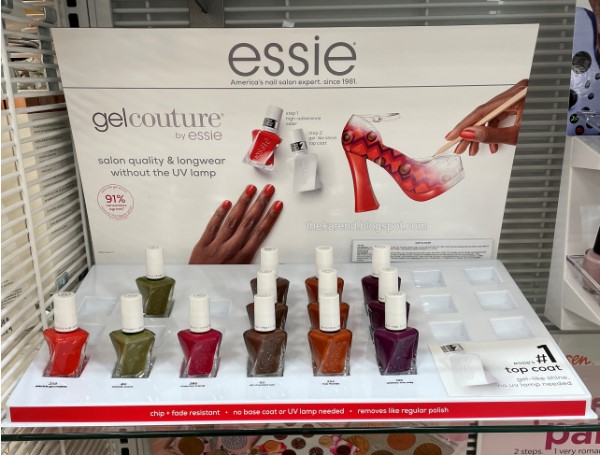 Essie continues to bring out new shades in the Expressie line as well, still mostly cremes. I saw the SK8 with Destiny collection at Fred Meyer. Three different Fred Meyers, actually, and at least one color was sold out each time, so I'm just going to have to share two of them, as I lack the photo editing skills to merge them. Left to right: Sk8 with Destiny, Left on Shred, Trick Clique, Bearer of Rad News, Streetwear n' Tear, Daily Grind, Curbside Pickup, Just for Kicks, Keepin' It Wheel, All Ramped Up.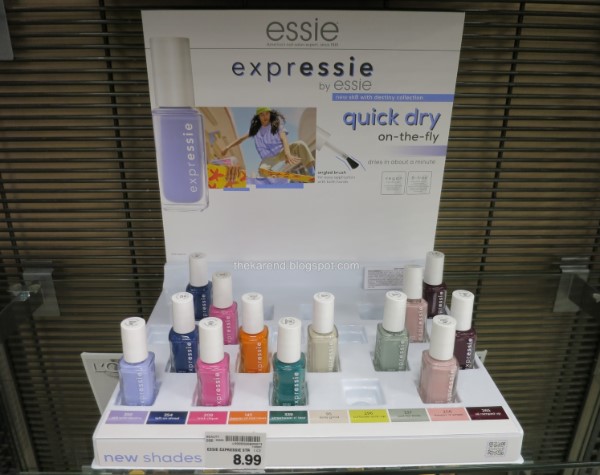 At Fred Meyer, I saw an OPI Celebration collection display which was for Holiday 2021 but I hadn't run across it before. Some of the slots were empty but thanks to good labels on it, I at least know what I missed. Top row: Ring in the Blue Year, LED Marquee, All is Berry & Bright (this doesn't particularly say "berry" to me), Ready Fete Go, Cheers to Mani Years, Confetti Ready, You Had Me at Confetti, Big Apple Red. Bottom row: Snow Day in LA, Turn Bright After Sunset, Big Bow Energy, Mylar Dreams, Maraschino Cheer-y, Paint the Tinseltown Red, OPI Hearts to Party, My Color Wheel is Spinning.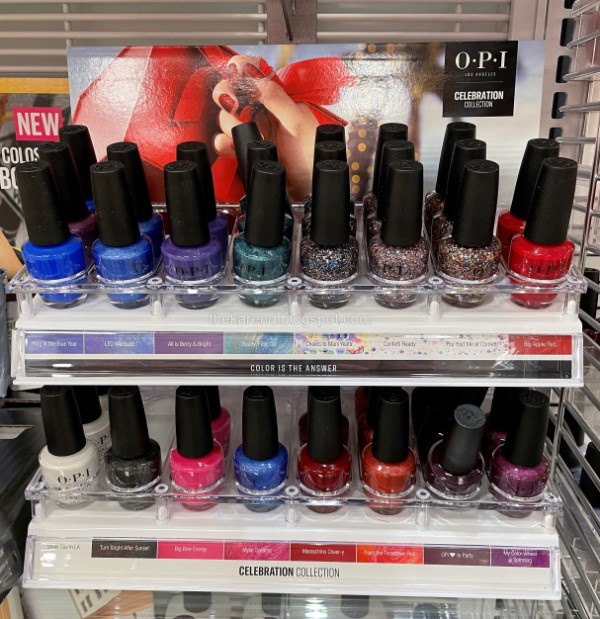 Ulta had space for the Celebration collection in that awful for photos backlit display that I will never stop complaining about. I was able to get a decent shot of the nail art shown next to the bottle slots.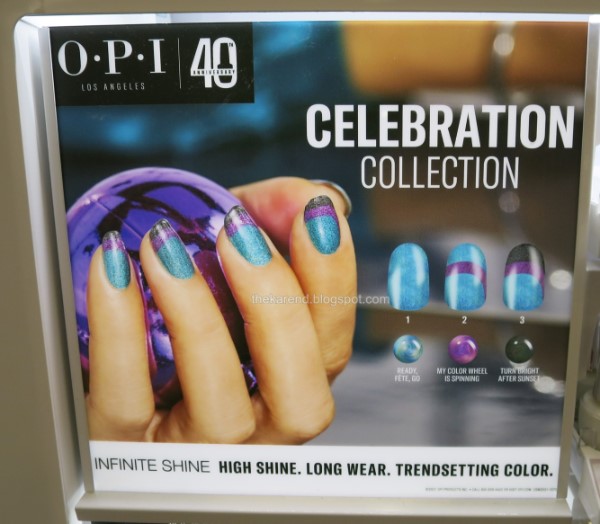 Ulta had the OPI Xbox collection on the non-backlit end, so that was nice. The top had the shades in both the Infinite Shine and traditional lines, though many were sold out (or not yet stocked, I'm not sure).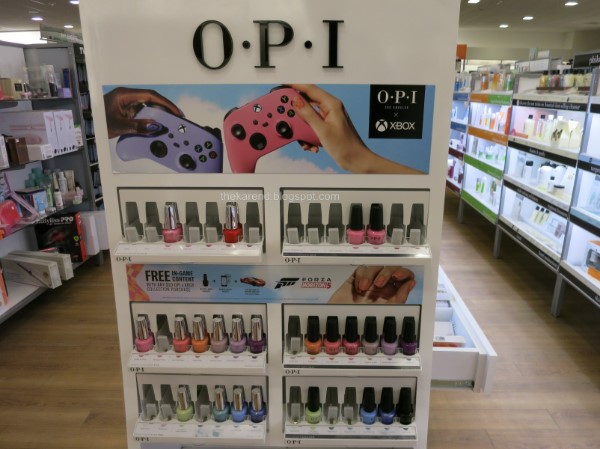 The bottom part had mini sets and duos, and a photo of all twelve colors lined up. Left to right: Achievement Unlocked, Pixel Dust, Racing for Pinks, Suzi is My Avatar, Trading Paint, Heart and Con-soul, The Pass is Always Greener, Sage Simulation, You Had Me at Halo, Can't CTRL Me, Quest for Quartz, and NOOBerry.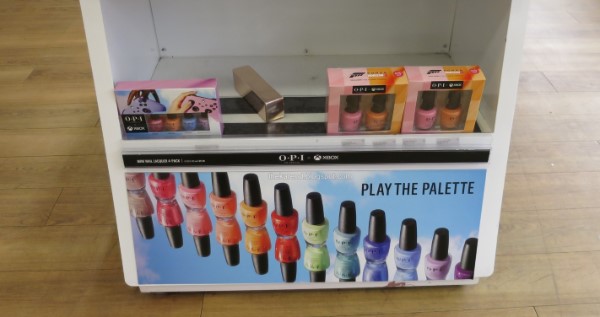 There was a new Sally Hansen Miracle Gel display at Fred Meyer that seemed Valentine's themed, with "The Perfect Pair" and "Romance in Paris" and "Fall in Love with 8 Dreamy Shades" all printed on the display. Confusingly, there were slots for 12 shades (plus shiny and matte top coats) but only 5 shade names printed on the front of the display. Fortunately the 8 shades apparently part of the Romance in Paris collection had caps printed with hearts and "Eiffel in Love" so I could pick them out. Front row: Ski Bunny (special cap), First Glass (special cap), Love at First Flight (special cap), Shell Yeah (special cap), Girls Flip (special cap), Shiny Top Coat, Matte Top Coat. Back row: Sunbrella (special cap), Can't Beet Royalty (core), Red Eye (core), Wine Stock (core), Blue Skies Ahead (special cap), Blues Cruise (special cap), Tipsy Gypsy (core).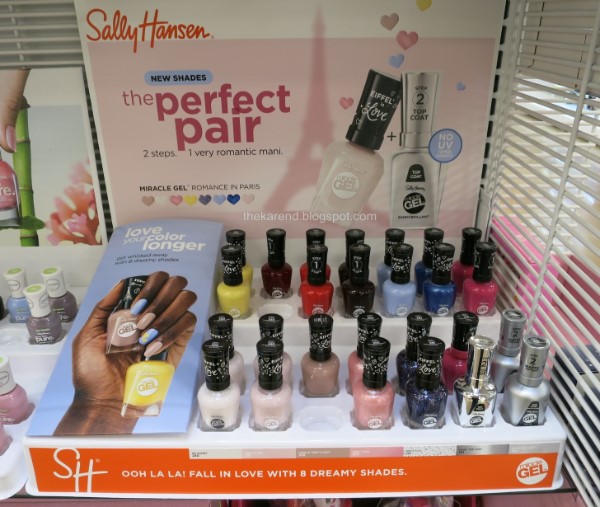 A similar but not the same display for this collection was at Walgreens. It didn't have the same assortment of shades as the one at Fred Meyer, at least not by the time I saw it.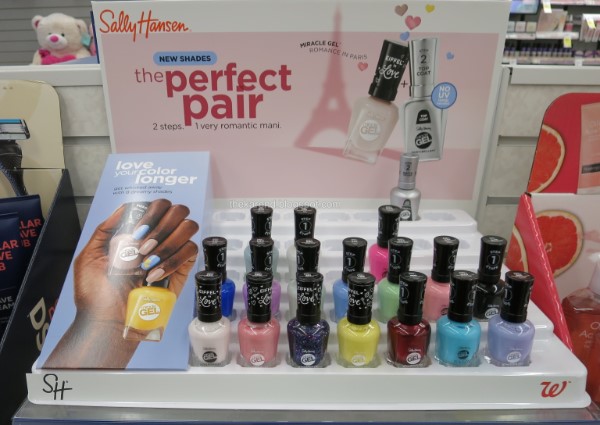 When I walked to the back of that Walgreens to check out the core display wall, I saw the "8 Dreamy Shades" that were in the Romance in Paris display there, without the special printed caps, tucked into a row labelled as the "Travel Seekers Collection".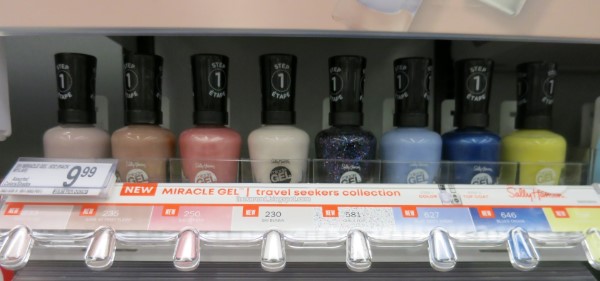 At Rite Aid, the "Perfect Pair" Romance in Paris display had the eight new shades nicely lined up in the front row with good labels below them. There were some core shades in the back row, too, and the shiny and matte top coats at the end. Left to right: First Glass, Love at First Flight, Shell Yeah, Ski Bunny, Girls Flip, Blue Skies Ahead, Blues Cruise, Sunbrella.
At Walgreens I came across a free standing Sally Hansen display with several things in it: Good Kind Pure, Color Therapy, and Color Foil, plus nail art kits and tools and treatments. This was the first time I'd seen the Color Foil in my area. As far as I could tell, these shades are all core for now. The Color Foils here are: Rose Beam, Steel a Kiss, Vio-Lit, Gold Standard, Sky-Fi, and Cutting Hedge.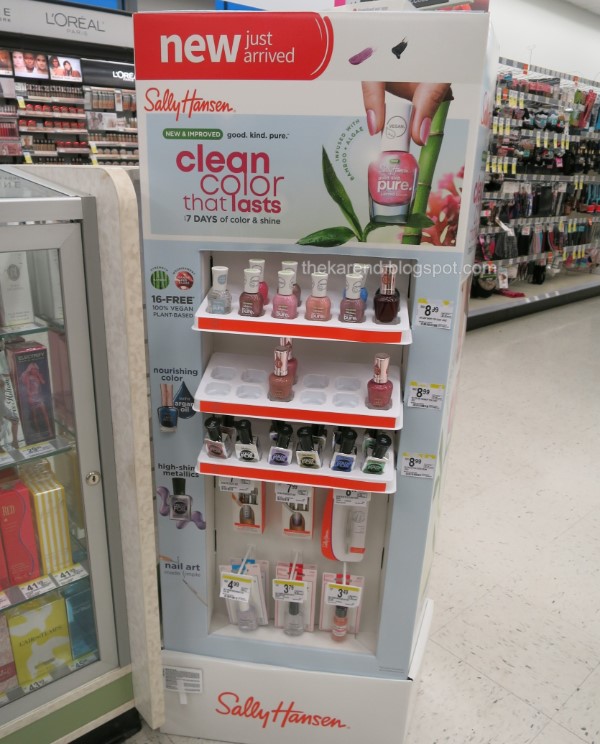 As with the Miracle Gel, when I went back to the core area, I saw the Color Foils there, too, with one more shade than was up front. Left to right: Rose Beam, Fuchsia-ristic, Steel a Kiss, Cutting Hedge, Gold Standard, Sky-Fi, and Vio-Lit.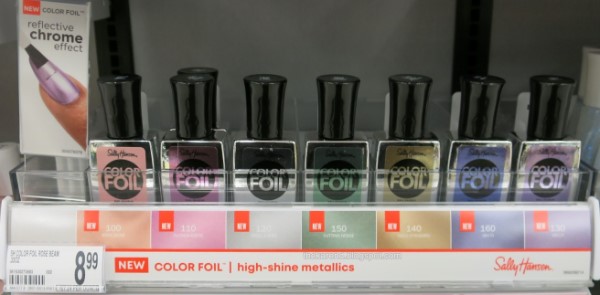 That's all for now. Maybe next time I have enough displays to share I'll have ventured into a Sally Beauty and/or a Walmart as well. Hard to say how things will unfold.