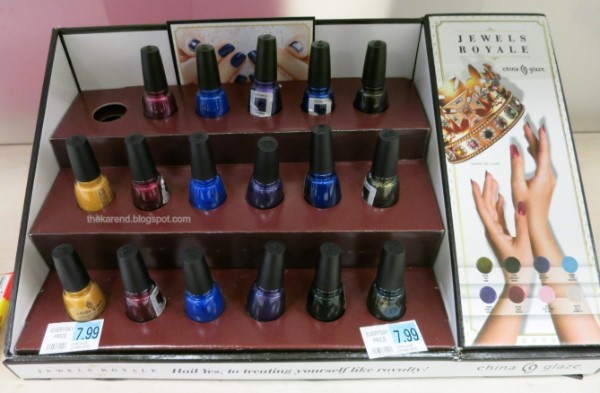 Hello. I am back. Since I made my hiatus post, I went on a long (6 weeks) road trip. About four weeks in, my husband got COVID but I remained well despite sharing a rental condo with him (we took what precautions we could during that time). He recovered in time to fly home, and I went on to a conference in Chicagoland, the day after which I tested positive for COVID myself. Thanks to vaccines, I've had a fairly easy time of it, though I am still testing positive so am continuing to isolate.
I had a few displays I didn't manage to post pre-hiatus, so figured I'd return to blogging with those. I did also see some things on my trip, but I'll save those for another post later this month so as not to overwhelm myself when I'm just getting back into things. My shopping frequency isn't back to what it was before we were in pandemic times, and mainstream brands certainly aren't doing as many collections now as they were in the last golden age of retail, but I still want to document what's out there. Besides, it's been ages since my last display post back in February.
I rarely see China Glaze standalone displays anymore, so was surprised to come across this one for Jewels Royale at a Rite Aid. There was not a perfect match between the bottles in the display and the eight colors shown on the photo, but still, I was happy to see something new to me there. Bottles left to right in front row: Autumn's Up (does not belong with this collection, Ruby Riches, Stay Frosted, Spoil Me Royal, Emerald Magic (times 2). The deeper blue in the 2nd row is Sapphire Up.
At the end of an aisle at Sally Beauty, I found this display of Dashing Diva Glaze, which are "semi-cured gel" nail strips. Unlike the Sally Hansen gel strips, these don't require a liquid topcoat over the strips. Like the Sally Hansen, they do have to be cured under a UV lamp. The plain strip sets are $11.99. The strip sets with glitter/patterns/accent nails are $15.39. The lamp is $13.19.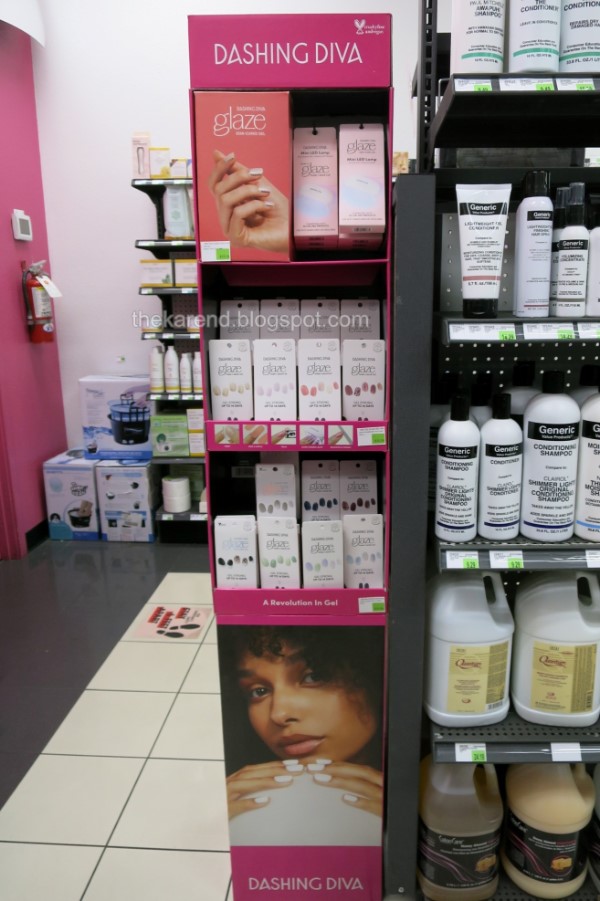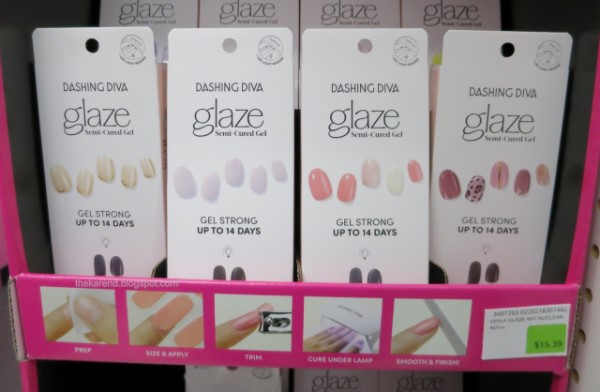 Morgan Taylor No Boundaries was apparently a fall release, but my Sally Beauty still had the display out so I'm sharing it. Slot for: Laying Low, Uncharted Territory (sold out), Afternoon Escape, Catch Me If You Can (sold out), Keep 'em Guessing, and Totally Trailblazing. A couple of these colors have Sing 2 printed on the caps, so apparently this was also a movie tie-in?
This is old news now, but I still want to get the Sally Hansen x Peeps Insta Dri displays in here for the sake of posterity (just recently I dug up a post of mine from 2014 to share the display photo for Sally Hansen Gem Crush in a Facebook group, so I might need these someday). At Walgreens, they were in a sidekick. The first row has two-packs perfect for tucking in an Easter basket. The single bottles of the LE Peeps shades are in the second row: Peeps Yellow, Peeps Pink, Peeps Blue, Peeps Lavender, Peeps White, Peeps Fruit Punch, and Peeps Wild Berry. And yes, some of the wraps on the caps were peeling off in the store. I can only imagine it was supply chain related, maybe not able to print caps but were able to get stickers that weren't quite suited to the purpose. The rest of the display was filled with a selection of previously released and core colors.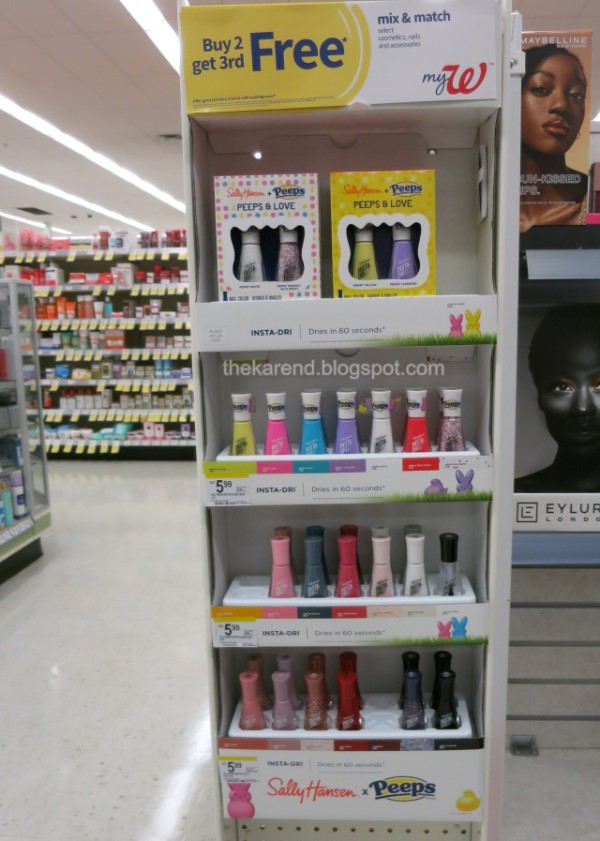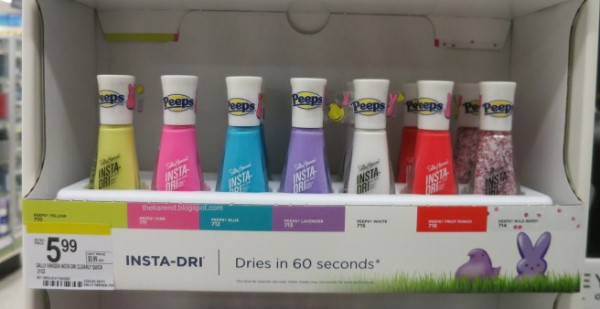 Fred Meyer had a shelf top of the Peeps polishes. This had a smaller number of core colors but they were still there. I do not know why Thyme is Money was featured in the color names printed on the display in place of Peeps Fruit Punch (which was included in the bottle assortment).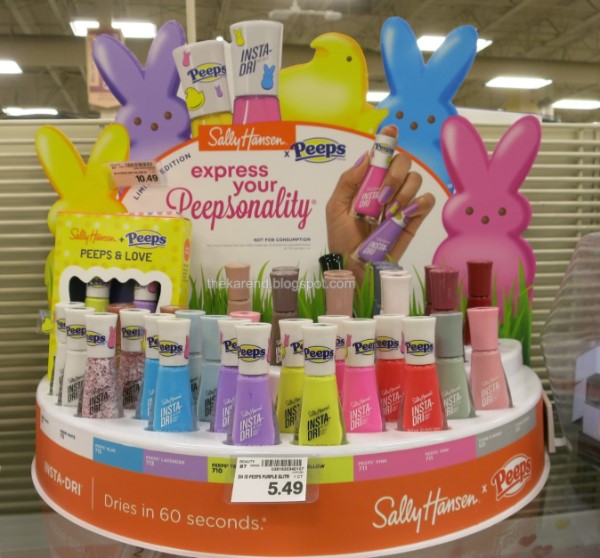 Two details caught my eye here: the "Not for Consumption" warning (so ridiculous that things like that are needed now) and the fine print that the glitter polish may not dry as fast. Guess quick dry suspension base isn't a thing.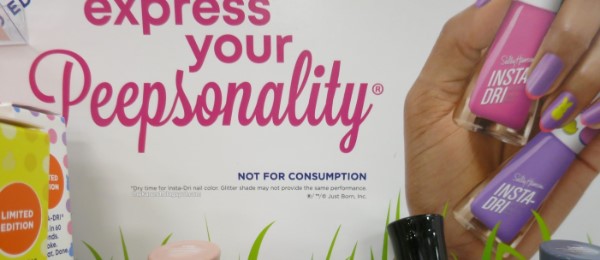 A different Fred Meyer had a tall freestanding display of these, with all the Peeps colors on one side and the non-Peeps on the other (not pictured).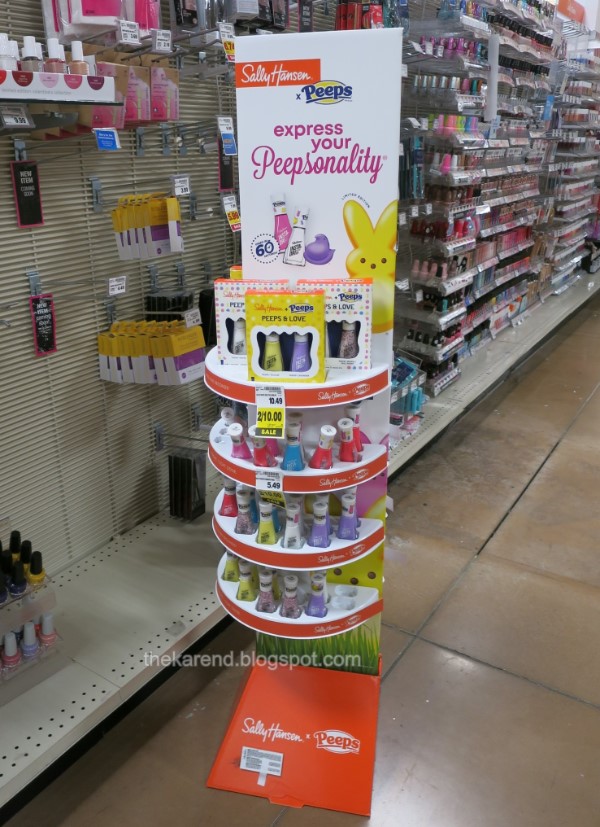 I ventured into Walmart and saw some Salon Perfect shades I hadn't before. First up were some glitters and shimmers, some with holo sparkles on the caps, set together in one section of the regular display wall. There were slots for six shades: It's Your Birthday, All That Glitters is Gold (sold out), She's a Star, Shimmer Down, Sequin Sisters, and Teenage Fever.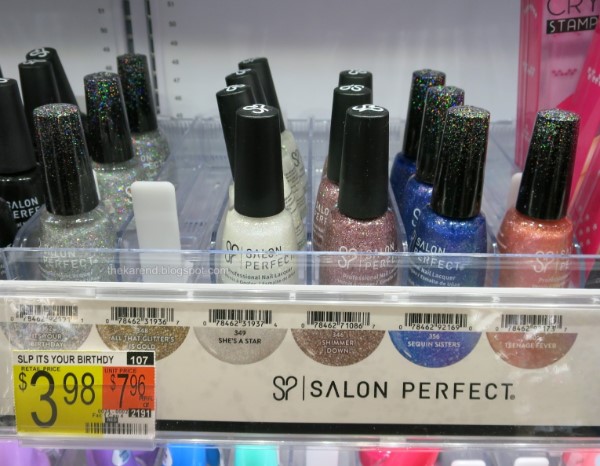 Not far away, there was a section with pastel-leaning neons labeled "SP x Dippin' Dots". The colors seem like pretty standard summer fare, but they looked so pretty all together. The SP logo on the top of these white caps is printed in hot pink which sets them apart. Shades left to right: Birthday Cake, Strawberry Swirl, Orange Creme, Banana Split, Cool Mint (the most Dippin' Dots-iest shade here in my eyes), Lime Ice, Cotton Candy, and Berry Freeze.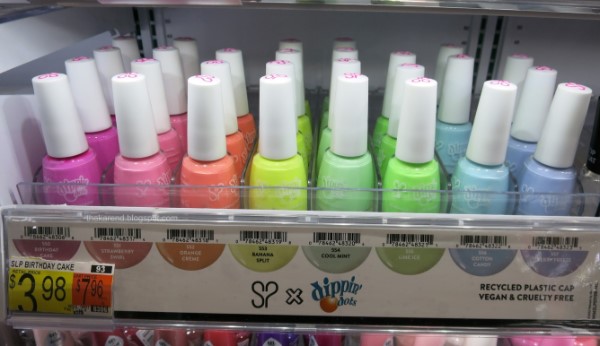 So this catches me up to where I wanted to be before my trip (at least as far as displays, swatches are a whole 'nother thing), and that feels good. I don't have any long trips planned for a while, so hoping I can get back to a regular blogging schedule while I'm home.